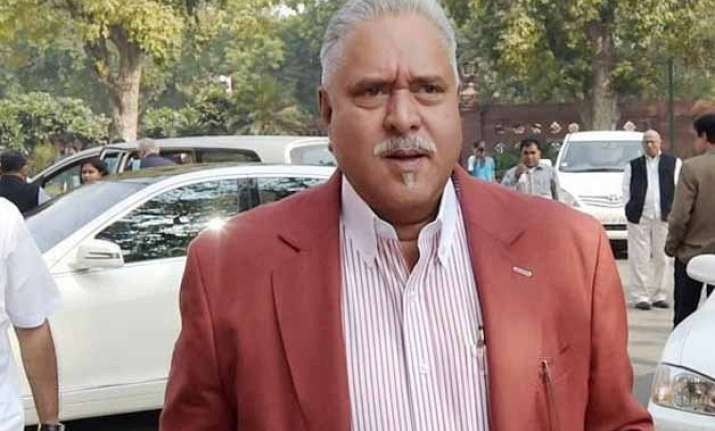 Bengaluru: Under fire for his alleged role in huge unpaid loans of now defunct Kingfisher Airlines, beleaguered industrialist Vijay Mallya on Sunday blamed media for spoiling his reputation and sought to clarify why his dream airliner failed.
"The past few days have witnessed a near hysterical campaign in the media directed against me," the 60-year-old flamboyant tycoon said in a statement here.
Accusing media of indulging in sensationalism, he said he felt the time had come to clarify his position in order to avoid relentless attack on his reputation.
"I have always lived an honourable life and the calumny notwithstanding, shall continue to do so. As to the allegations in media, all I can say is I hope some sobriety and sense will prevail and truth not held a hostage to TRPs."
Recalling that Kingfisher was launched in 2005 on the basis of viable business plan vetted by SBI Capital Markets and international aviation consultants, Mallya admitted that despite every effort, the airline was an unfortunate commercial failure caused by macro-economic factors and then government policies.
"The truth about Kingfisher Airlines and its financial stress due to external factors has been reported by State Bank of India (SBI) to the Reserve Bank of India (RBI) in their letter dated 31st January 2012," he said in the statement.
Mallya's statement comes ahead of the Debt Recovery Tribunal's order on the four interlocutory applications (IAs) the SBI moved on March 2, seeking his arrest, impounding his passport, disclosure of his assets in India and abroad and first claim to the $75 million deal he had signed with British liquor major Diageo plc on February 25 for resigning as chairman of its Indian arm United Spirits Ltd (USL). The tycoon also said he would move to Britain to be with his family.
When the tribunal reserved its order on Friday and posted next hearing to Monday, the SBI filed a writ petition in the Karnataka High Court as a lead bank of a consortium of banks, seeking same relief it sought from the tribunal. On this, the court issued notice to Mallya and others for response by this week.
A consortium of 17 state-run and private banks loaned funds of Rs.7,800 crore to Kingfisher, a public firm, but these loans were secured by blue chip securities.
After the airline's closure in 2012, the banks and their assignees recovered an aggregate of Rs.1,244 crore from sale of pledged shares since April 2013, he said.
In addition, an aggregate of Rs.600 crore is lying deposited in the Karnataka High Court since July 2013 and Rs.650 crore of United Breweries Holdings has been deposited there since early 2014, being sums realised from proceeds received by the UB Holdings from sale of shares in United Spirits to Diageo in July 2013.
"Thus, the aggregate cash recovery/security available is Rs.2,494 crore," Mallya claimed in the statement.
Observing that a disinformation campaign had made him a poster boy of all banks' NPAs (non-performing assets) despite pledging blue chip securities and depositing unspecified amounts in court, Mallya said banks have NPAs of Rs.11 lakh crore and borrowers owe much more than Kingfisher.
"None of these large borrowers have been declared wilful defaulters, but unfortunately, UB Holdings and I have been declared wilful defaulters by certain banks on technical grounds. I have legally challenged these declarations," he said.
Clarifying all inquiries found no evidence of misappropriation of funds by his defunct airline or himself, he said hence allegations and innuendo to this effect were false.
"My group invested Rs 4,000 crore into the airline which stands impaired - it is not as though it is only the bank debt that has suffered. Banks will recover a substantial part of their debt - my groups loss is permanent," Mallya noted.
Lamenting for being painted as an absconder, Mallya said he had been a non-resident for around 28 years and the RBI had acknowledged this in writing.
"Over the years, I have built businesses in India and abroad. I am also honoured to be a member of the Rajya Sabha (from Karnataka for the second time)," he added.
( IANS)