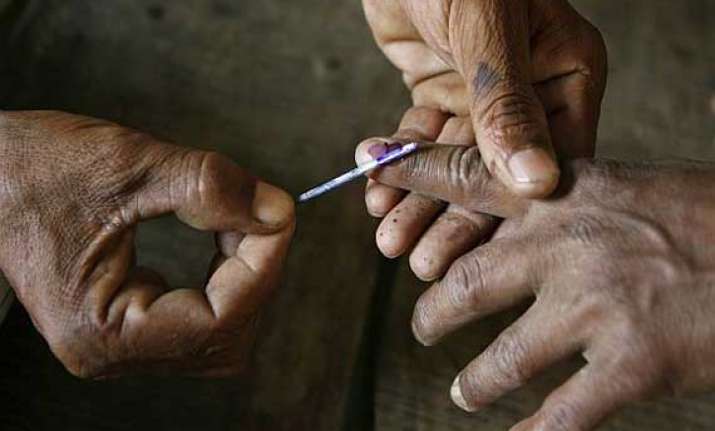 Dehradun: Around 62 per cent of the voters today cast their votes in Uttarakhand where polling for five Lok Sabha seats completed peacefully amid tight security.  Nearly 62 per cent of the 71.29 lakh voters across the state cast their votes till 6 PM, Joint Chief Election Officer Saujanya told PTI.
However, polling percentage from some remote areas in the hills are still awaited, she said.
Though polling remained peaceful, a poll official Arvind Singh due to cardiac arrest at Nargarha booth of Bageshwar district in Almora Constituency, Chief election officer Radha Raturi said.
Polling began amid tight security across the hill state for Pauri-Garhwal, Tehri, Nainital, Almora and Haridwar seats at 7 AM with men and women in large numbers turning up at the polling stations since early morning to cast their votes.  Long queues of voters were seen outside polling stations waiting for their turn to exercise their right to franchise.  A total of 71.29 lakh voters across the state are likely to exercise their voting rights to elect legislators out of 74 candidates, including three former BJP Chief Ministers, contesting elections.
Elaborate arrangements were made to conduct free and fair polling across the state with the deployment of 48,122 poll personnel on 10,094 booths, election officials here said.  The 48,122 polling personnel deployed on the booths included 11,484 presiding officers and 36,638 polling officials. 711 micro observers were also deployed to ensure free and fair poll.
Seventy-six gazetted police officials, 122 inspectors, 759 sub-inspectors, 1531 head constables, 11,225 constables, 11,245 home guards, 5409 gram prahris, chowkidars and forest guards besides 21 companies of the Provincial Armed Constabulary and 56 companies of central police forces were deployed across the state to oversee the conduct of polling, election officials said.