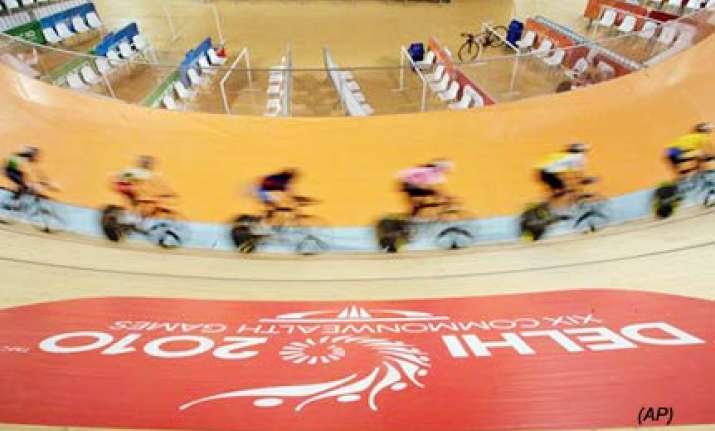 New Delhi Widening its probe, the Central Vigilance Commission (CVC) is looking into at least 22 more Commonwealth Games-related construction and procurement works carried out by different government agencies here for alleged financial irregularities.
Besides, the CVC has found alleged misuse of official position by Raj Kumar Sacheti, Joint Director General of Commonwealth Games, who is considered a close aide of Organising Committee Chairman Suresh Kalmadi.
According to the information received in response to an RTI application, out of the total of 22 projects, a highest of six were being carried out by Ministry of Youth Affairs and Sports, four by Delhi Development Authority, three by Organising Committee and two each by Municipal Corporation of Delhi, Central Public Works Department, Government of Delhi.
One work each relating to Department of Commerce, Indian Meteorogical Department and New Delhi Municipal Council is also being probed, the reply said.
An analysis by Chief Technical Examination Wing of CVC earlier found alleged financial and administrative irregularities in 16 construction and procurement projects.
Six of them were done by PWD, three by MCD, two each by CPWD, DDA, NDMC and one by RITES, a Government of India Enterprise, the CVC report said.
The expansion of the probe by the CVC came even as it directed all agencies concerned to submit their reports by the month-end.
Official sources said a reminder has recently been issued to Central Public Works Department (CPWD), Municipal Corporation of Delhi (MCD), Delhi Development Authority (DDA) and Public Works Department (PWD) in this regard.
The move came after Central Vigilance Commissioner P J Thomas objected to the "lackadaisical approach" and continuous delay by agencies in submitting replies to the queries raised by the anti-corruption watchdog, they said.
A senior CVC official said that based on their replies, the CVC will give its findings or final report to a committee formed by Prime Minister Manmohan Singh headed by former Comptroller and Auditor General (CAG) of India V K Shungloo.
As per the RTI information, it has been found out that some of the agencies are sitting on the clarification or delaying their replies asked by CVC on corruption charges since January this year.
"Complaint regarding misuse of official position and corruption by Raj Kumar Sacheti, Joint Director General of Commonwealth Games, 2010; factual report awaited from the CVO, Ministry of Youth Affairs and Sports," the CVC said.
In a related move, both the Income Tax Department and Comptroller and Auditor General (CAG) have also tightened the noose around all the agencies for alleged irregularities.
The Income Tax department has collected documents pertaining to tenders and award of contracts for its "two pronged" probe into the finances
of the Games.
The I-T department's second line of probe will go into deductions under the Tax Deducted at Source (TDS) category which the Organising Committee of the Games is expected to cut from the salaries of professionals hired by it like event managers, anchors and other officials.
CAG audit of CWG Village to begin from Oc 28; report in Nov
The Comptroller and Auditor General (CAG) will start the audit work of Commonwealth Games Village here from October 28 to probe allegations of financial irregularities.
Official sources said the CAG will also audit the accounts of Delhi Development Authority (DDA) and the expenditure incurred for building residential complexes inside the Village in addition to the alleged undue favours given to Emaar MGF, a leading real estate group, for its construction.
Emaar MGF did not respond to an email query sent by a leading news agency.
The audit process by CAG teams began in the middle of August. It was halted between September 24 and October 14 in view of the Games.
The audit resumed this Friday and memos have been issued to different parties including Delhi Government and others.
"At least 10 teams would conduct the audit. Each team has at least three supervisory officials. Three teams have already been pressed into service for the audit of Central Public Works Department (CPWD), DDA, New Delhi Municipal Council (NDMC), Public Works Department (PWD), Organising Committee (OC), Delhi Government etc," a senior CAG official said.
According to the auditing agency, huge financial irregularities worth crores of rupees have been noticed in various contracts by civic and construction departments.
"CPWD has paid additional amount to a contractor (with regard to construction at S P Mukherjee Swimming Pool) despite the work covered in the original contract. As per preliminary investigations, the difference is of about Rs 200 crore," the official said.
CAG has found service tax underpayments related issues and inflated tender estimates with regards to the swimming pool.
CAG will submit its report in the Parliament session next month."We have started auditing the SPM Swimming Pool (built by CPWD which functions under Urban Development Ministry) and the CRPF Kadarpur Shooting Range in Gurgaon," he said.
A team will also be inspecting Jawaharlal Nehru Stadium and Indira Gandhi Stadium soon. "Then we would be auditing the Siri Fort Stadium and Yamuna Sport Complex, constructed by the DDA, and the Talkatora Indoor Stadium which comes under NDMC," the CAG official said.
Meanwhile, Prime Minister Manmohan Singh has also formed a committee under the chairmanship of former CAG V K Shungloo to probe and submit report within three months on all Games- related financial and construction projects.