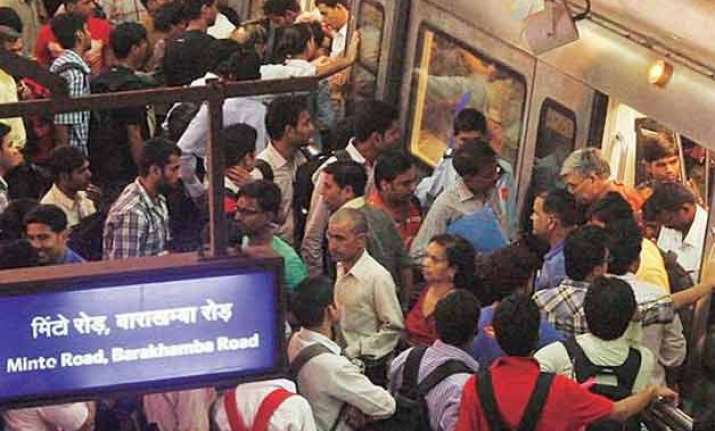 New Delhi: Delhi Metro's ridership went up by two lakh yesterday, the first full-fledged working day since the odd-even scheme for movement of vehicles came into force in the national capital, even as DMRC officials said the train service has previously witnessed larger riderships.  
Although at 28,19,657 yesterday, the figure was a good two lakh above the average daily ridership of 26 lakh, metro officials say it was nothing unusual as every first working day of the week sees such large passenger volume.
As per official data, three of the last five working Mondays saw more passengers travelling on the network than yesterday. On December 21, ridership had touched 28,88,128.  
On Blue Line, considered as one of the most busiest corridors, four of the five Mondays had saw more ridership. On December 21, it was 10,61,814 as opposed to yesterday's 10,09,105.
The 51-km-long section connects Noida City Centre and Vaishali to Dwarka Sector 21.
Yesterday, a picture showing a jam packed Rajiv Chowk metro station went viral on social media prompting Delhi Metro Rail Corporation Chief Mangu Singh to clarify that it was an old image.
"Delhi Metro was successful in handling the expected huge rush on all its lines, on the first working Monday of the year. All necessary measures were already planned in advance and were in place to manage any additional rush of passengers.  All lines and stations were thoroughly monitored throughout the day," DMRC said in a statement.
During the 15-day odd-even trial, DMRC has planned to run 70 additional trips daily, taking the total figure to 3,192 to handle passenger rush.