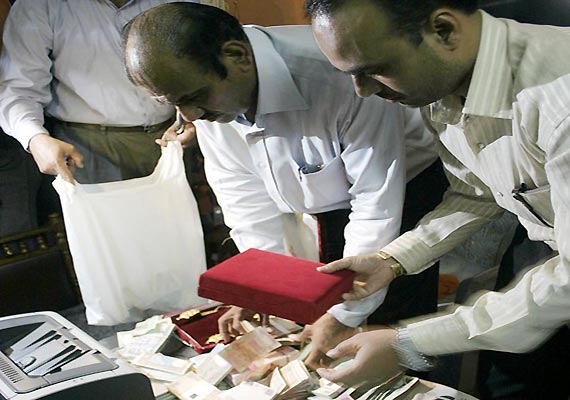 Indore, Jul 23: In a day-long search operation, the Madhya Pradesh Lokayukta police on Monday and Tuesday seized nearly 2 kg gold ornaments worth Rs 20 lakhs, Rs 14 lakh cash, documents related to 15 plots and four shops from the bank lockers and residence of Jagdish Rathi, assistant excise commissioner here.
Properties worth Rs 2 crore have been detected so far, officials said.  Lokayukta staff opened the ICICI bank locker and found 1.89 kg gold ornaments worth Rs 20 lakhs, said G D Sharma, DSP, Lokayukta.
Rathi is presently posted as assistant excise commissioner in Sagar. He owns 15 plots in Rau, a 6,000 sqft plot in a township, a building and four big shops. Most of these properties are in the name of his wife and close relatives.
A team of nearly 20 Lokayukta staff searched his house and found Rs 14 lakh cash, 32 kg silver and a large quantity of gold.
Jagdish Rathi has been serving in several cash-rich posts of the excise department for the last 26 years. His official residence and office in Sagar were also searched.