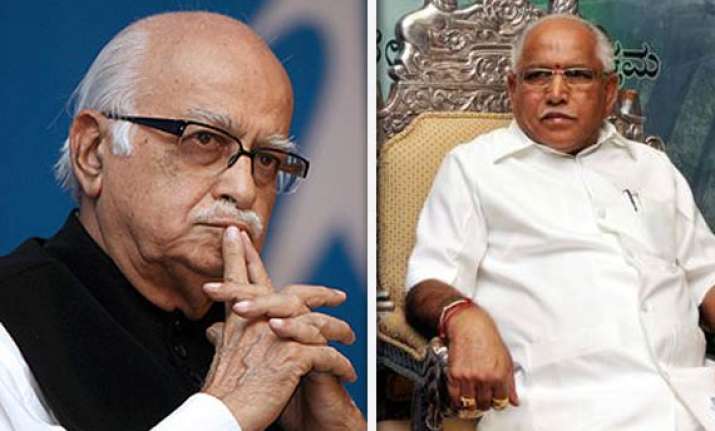 New Delhi, Dec 15: Karnataka BJP MPs from the B S Yeddyurappa camp today met party leader L K Advani to press for the former chief minister's rehabilitation, insisting that only he could lead the party to victory in the next elections. 

The 12 parliamentarians also submitted a letter signed by 17 MPs stating that the party was going downhill in the state since Yeddyurappa had to step down.

The party has 19 MPs from Karnataka in the Lok Sabha. 

The MPs demanded that Yeddyurappa, a prominent leader of the dominant Lingayat community that is loyal to the BJP, be reinstated as chief minister or made state unit president as he is the best bet to ensure the party's return to power. 

Sources close to Advani said he heard the MPs and then asked them to meet party president Nitin Gadkari on the issue. 

Among those who signed the letter are Yeddyurappa's son and MP B Y Raghvendra, Bellary MP and Reddy Brothers associate J Shantha, P C Mohan, Ramesh Katti, Shivkumar Udasi, P C Gaddigoudar, D B Chandra Gowda, Suresh Angadi, Janardhan Swamy, G M Siddeshwara, S Pakkirappa, G S Basavraj, Shivarama Gouda and N K Kateel.

Three of the 17 signatories - Prabhakar Kore, K B Shanappa, and Aayanur Manjunath - are from the Rajya Sabha. 

Yeddyurappa had to step down from the post of chief minister on July 28 after he was indicted by the Karnataka Lokayukta in an illegal land allotment case. He was also jailed for a few weeks in graft cases.

BJP sources maintain that Advani does not have much of a liking for Yeddyurappa. He had even criticised the former chief minister during his recent Jan Chetna Yatra, and said BJP leaders facing graft charges weakened the Opposition's fight against corruption.

On the other hand, Yeddyurappa's camp has always alleged that Advani is soft to the former's bete noire Ananth Kumar who allegedly tried to dislodge him from the chief minister's post more than once.

Though he is not occupying any post, Yeddyurappa continues to have a hold on the party unit in Karnataka.  Sadanand Gowda, who replaced him as chief minister, was his choice.

However, new permutations and combinations are emerging within the Karnataka unit. A pointer to this is J Shantha's assent to the demand to reinstate Yeddyurappa. She is the sister of B Shreeramulu - a close associate of the Reddy brothers - who has now rebelled against the party and won the Bellary Assembly seat as an independent.