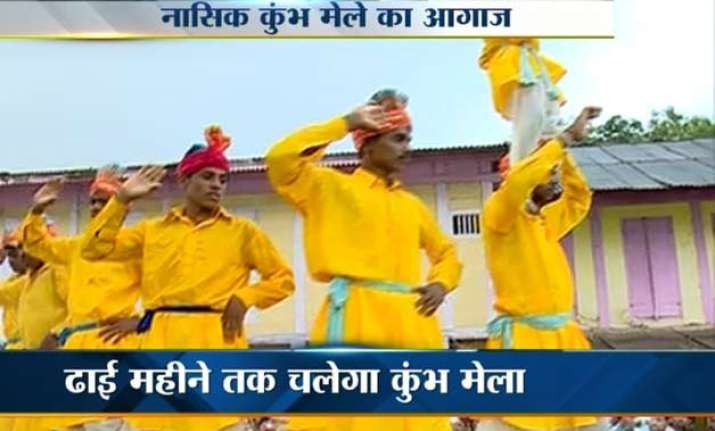 The Nashik-Trimbakeshwar Simhastha Kumbh Mela started on July 14 with Maharashtra Chief Minister Devendra Fadnavis inaugurating it in Nashik and Union Home Minister Rajnath Singh in Trimbakeshwar.
The inaugural was marked with poojas, hymns and traditional flag hoisting at both venues amidst tight security.
Fadnavis hoisted the flag in Nashik while Singh did the honours in Trimbakeshwar, both on the banks of the Godavari River, around 45 kms apart.
Here are 15 interesting facts about the extravaganza:
1.      The event is held once in 12 years on the banks of Godavari River in Nashik Trimbakeshwar.
2.      Several thousands of pilgrims, mendicants and holy men, officials from various departments and tourists will witness the dozenial event.
3.      The inaugural was followed by thousands marching to the Godavari River for the first holy bath of Kumbh Mela 2015.
4.      Hundreds of free community kitchens are being operated at the mela venue.
5.      The mega event will end on September 25.
6.      Lakhs of people are flocking to Nashik and the nearby temple town of Trimbakeshwar.
7.      250 acres of parking lots for around 100,000 vehicles have been created around 10 km on the outskirts of Nashik.
8.      Separate ghats have been designated to cater to pilgrims coming from southern, northern, western and eastern routes to avoid overcrowding.
9.      75,000-100,000 pilgrims are expected to attend the bath at mela daily.
10.  Around 500,000-800,000 pilgrims are expected on each day of Shahi Snan - August 29 and September 13 and September 18.
11.  The preparations for the event started in 2011 with the Maharashtra government, civic bodies and others spending over Rs.2,300 crore to set up infrastructure such as roads, flyovers, sewage treatment, CCTV cameras monitoring of venues and bathing ghats and cleaning up the Godavari.
12.  The Nashik Kumbh is expected to generate an estimated revenue of more than Rs.10,000 crore -- and jobs for nearly half a million people, said a recent Assocham report.
13.  Nashik hosts the Kumbh Mela along with Allahabad (Prayag), Haridwar and Ujjain every 12 years.
14.  Trimbakeshwar is one of the sites of the 12 Jyotirlingas.
15.  According to Hindu legend, the mythological importance of Kumbh revolves around the churning of the oceans (Samudra Manthan) by the gods and demons to obtain the invaluable jewels (ratna) and nectar (amrit).