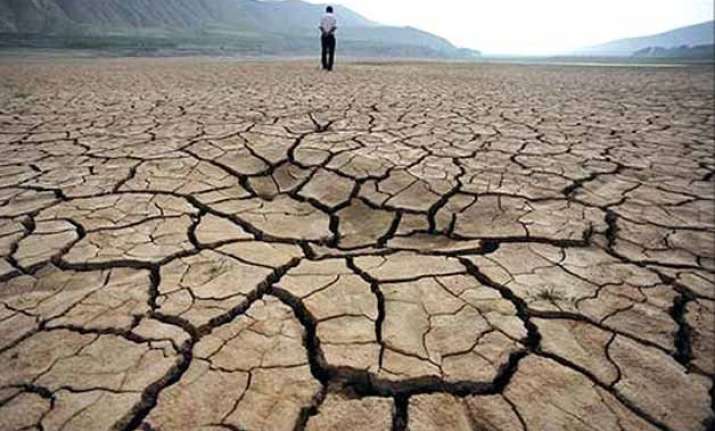 Mumbai: As many as 14,708 villages in Maharashtra are facing drought conditions where paisewari ('value of crops') is less than 50 per cent, Agriculture
Minister Eknath Khadse announced here today.
"This year, monsoon was less than 75 per cent in 189 talukas while paisewari in 14,708 villages is less than 50 per cent," Khadse said.
He said that the majority of villages (8,522) of the total 14,708, where drought is declared, fall under Aurangabad division.
He was talking to reporters after attending meeting of a cabinet sub-committee which is headed by him.  
For its part, the government will provide a concession of 33.5 per cent to farmers in their agriculture pump bills, and will also waive off examination fees of their wards in
schools and colleges.
Khadse said the income limit for eligibility to avail 50 per cent waiver of education fees for children of economically backward farmers has been raised from Rs 1 lakh to Rs 2.5 lakh.
He said the authorities concerned have been directed not to stop electricity supply to agriculture pumps of farmers.
The minister also announced setting up of cotton procurement centres within 15 days.
"Similarly, soybean, paddy, maize and jowar procurement would be done before Diwali. Instructions have been given to start the procurement centres in 15 days," he added.
Khadse said a memorandum will be submitted to Centre for financial assistance to tackle the situation. Meanwhile, the Leader of Opposition in the Legislative
Assembly, Radhakrishna Vikhe Patil termed the government's move to announce drought as "ridiculous" at this juncture.
"It is ridiculous that drought tax was imposed first and drought is declared later," Vikhe Patil said.
He was referring to state government's decision to levy a surcharge on a range of items including petrol, diesel, alcohol, cigarettes, cold drinks, diamond and gold jewellery in a bid to bolster its finances to tackle drought.
"Drought has been declared but when will farmers start getting help? Farmers must now get substantial help from the government. Only declaring drought is not enough, government must now declare loan waiver in order to curb growing incidents of suicides by farmers," he said.