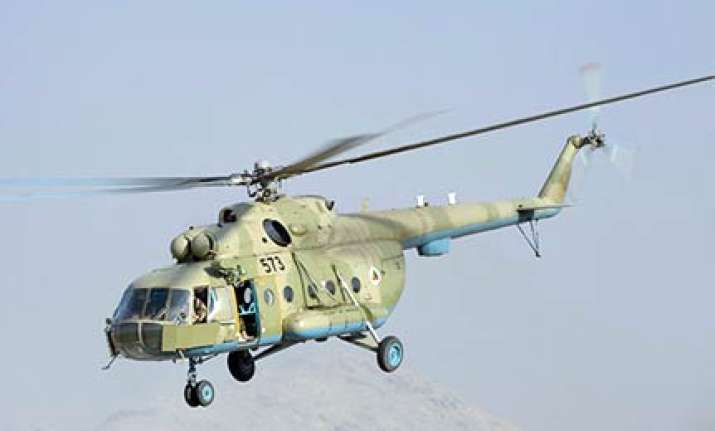 Itanagar/Shillong, Nov 19: All 12 defence personnel including a Lt.Colonel on board a MI-17 Air Force helicopter were killed today after it crashed in Tawang in Arunachal Pradesh close to the borders with China.
The helicopter had got airborne from Tawang for Guwahati and at 12.05 pm it went down near Bomdir in Tawang. The three crew members, eight IAF men and the Lt Col were killed in the tragic crash.
This is the ninth air crash recorded by the IAF this year.
The IAF immediately ordered a court of inquiry into the causes for the accident. Though initial reports had suggested that there was an explosion on the helicopter before it crashed, defence sources denied it.
Defence Minister A K Antony, in the evening, expressed profound grief at the loss of lives of defence personnel in the crash. Arunachal Pradesh Chief Minister Dorjee Khandu too condoled the deaths.
"In a tragic air crash, an IAF Mi-17 helicopter with 12 service personnel onboard, crashed near Bomdir in Tawang today at around 1205 hrs, killing all personnel on board. The helicopter was airborne from Tawang for Guwahati. The deceased include three crew members, eight IAF personnel below officer rank and an Army Lieutenant Colonel," a statement issued by the IAF in New Delhi said.
"The IAF has also constituted a Court of Inquiry to look into the cause of the accident," it added.
"The reason for the crash will be ascertained only after an enquiry is completed. A commission of inquiry has been ordered," Defence PRO based in Tezpur (Assam) Col Rajesh Kalia told PTI.
All the bodies have been recovered by the Army and police, but the IAF withheld their identity.
Kalia said the crash occurred minutes after the helicopter took off from the Tawang helipad at around 12 noon.
IAF sources said the weather was clear and so it was unlikely that the chopper could have encountered any obstruction in visibility.
Of the nine IAF air crashes recorded this year, this is the third helicopter accident.
The first IAF helicopter crash took place on September 11 when the IAF lost a Cheetah in Jharkhand. The second took place earlier this month in which another Cheetah helicopter crash landed in the Siachen Glacier on November 8. PTI