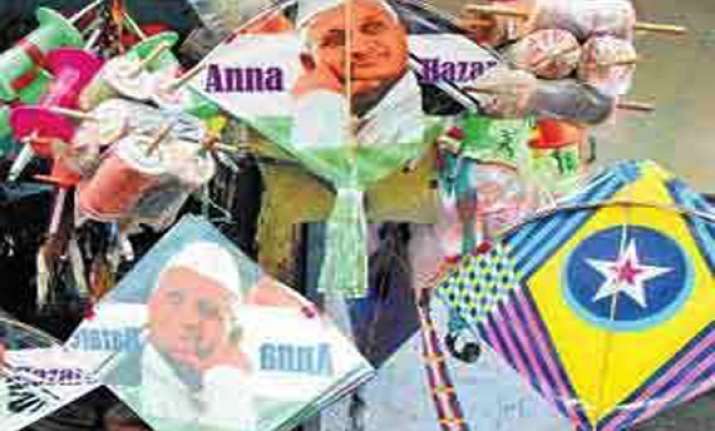 Jaipur, Jan 13 : The Pink City's skyline is all set to be dotted with images of Anna Hazare with kites bearing his pictures being a hit with lovers of the paper wonders ahead of the Makarsankranti festival.
Kite markets in the city are a riot of colour with kites of all shapes and sizes adorning the bylanes. 
"Normally, enthusiastic kite-lovers purchase fancy kites which have multiple designs or pictures of film stars.
This year, we are observing, that many people are buying fancy kites just because they have Anna's picture on them," Abdul Hameed, an old kite trader in Haldiyon Ka Rasta, a popular market here, said.

Kite manufacturers have also prepared kites bearing Anna's image in large numbers as the Gandhian has been in the news for the last few months.

Makarsankranti is celebrated as kite flying day in many parts of the country.

"Fancy kites are made up of plastic and have prints of different icons like politicians and film stars.This year, Anna is a hot favourite," he said, adding the rate of such fancy kites starts from Rs.10.

Hameed said that a few groups of people have ordered for fancy kites bearing different pictures of Anna in bulk.
Prices of kites and glass laced thread (manjha) are high as compared to last year but it has not dampened the enthusiasm of kite lovers.

"Rates of kites and manjhas have gone up by 20-40 per cent and there is shortage of stock in markets but despite this, we hope for a good business because schools are closed due to cold and children are free.
Moreover, Makarsakranti is falling over the weekend, and weather conditions are favourable," kite trader Prakash Panwar said. 

Another shopkeeper Mohammad Usman said kites and thread manufactured in Bareilly are always in demand but this year, there is shortage of manjhas made in that city.
 Large number of families residing in Handipura locality, which is the main place of kite-trading besides Haldiyaon Ka Rasta and Kishanpol Bazar, also manufacture kites and supply to different markets inside and outside Jaipur city and also to other districts.

After Jaipur, kite flying is popular in Bundi district. Bundi-based shopkeeper Satayanarayan said kite rates have almost doubled this year but the sale has not decreased as people are enthusiastic about kite flying. 
To mark the occasion, the Department of Tourism will be organising a kite festival at Jalmahal tomorrow. 

The festival will be held from 12 to 3 PM with exhibition of kites, demonstration of fancy kites, kite flying competition and cultural performances by folk artistes. 
Fancy kite flying will be a special attraction, wherein 100 kites will be flown by one string as well as one inch kites will also be there.

The Kalbelia dance will be followed by professional kite flying competition. Later, the tourists will fly kites which will be followed by distribution of prizes and cultural programme.