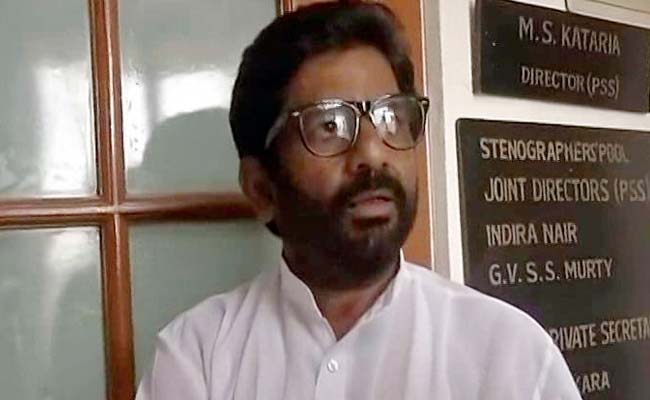 Hours after the Shiv Sena MP Ravindra Gaikwad boasted about how he had beaten up an Air India staffer with his slippers "25 times" at the Delhi airport following an argument over seating in flight, a video clip of the assault on a duty manager inside the aircraft by the MP has emerged which will further escalate the controversy. 
The 83-second video clip shows fleeting images of the assault on a duty manager inside the aircraft, with another Air India supervisor repeatedly pleading with the MP to stop because he was a "role model" and a "democratic leader". 
WATCH: Unedited footage of Shiv Sena MP R Gaikwad roughing up Air India staff (NOTE: STRONG LANGUAGE) pic.twitter.com/idFr8MpUTo

— ANI (@ANI) March 23, 2017
In the video, the stewardess can be seen telling the MP: "Aap toh role model hain sir. Aap fenk denge toh murder case ho jayega na, sir (You are a role model sir. If you throw him down, it will be a murder case, sir)".
MP Gaikwad, in reply, says, "Hone do na, bahut cases hai hamare upar (Let it happen, there are many cases against me."     
The stewardess tries hard to calm him down: "You are our representative, you are our democratic leader, we have elected you."
On Thursday, two separate complaints were lodged with Delhi Police against Gaikwad: one by R Sukumar, the 60-year-old contractual employee of Air India who was assaulted, and another by a senior manager on behalf of the airline for delaying the aircraft's onward journey to Goa by 40 minutes. No case has been registered yet.
On Thursday, Ravindra Gaikwad, the first time MP from Maharashtra's Osmanabad, attacked the staffer over a seating issue. 
The MP admitted that he hit the staff. "I hit him with my sandal 25 times. Do you expect me to hear their abuses quietly?" Gaikwad said.
Following the incident, Air India blacklisted the Shiv Sena leader. The AI staffer formally complained to the airline about the incident. "God save our country if this is the culture and behaviour of our MPs," he wrote in his complaint letter.