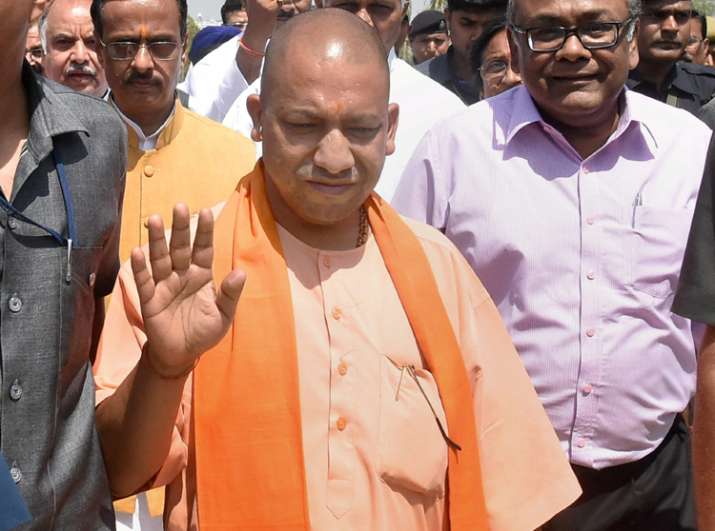 A week after taking charge of Uttar Pradesh, Chief Minister Yogi Adityanath has taken the first step towards a possible solution to the dispute at Ayodhya, the centre of Hindutva politics for over three decades. The matter gained prominence with the Supreme Court's advice to stakeholders to discuss and arrive at an amicable solution with an offer to mediate.
In his attempt to solve the matter through dialogue, Yogi has invited both parties in the dispute -- Mahant Dharamdas and Haji Mehboob -- to Lucknow for discussions. 
Yogi sent a message to this effect to Mahant Dharamdas who then conveyed it to Muslim litigant Haji Mehboob.  
Dharamdas told India TV that Haji Mehboob has agreed to meet the Chief Minister and discuss the matter in person and only a mutually agreeable date has to be finalised. 
"We will have to tell the CM that we are coming. We'll just have to find a mutually agreed date. Whatever is decided, we will tell the Supreme Court," he said. 
Haji Mehboob said he has agreed to meet and discuss the matter with Yogi as he is the Chief Minister of the state. 
Mahant Dharamdas is a disciple of Baba Abhiram Das who allegedly put the Ram idol on disputed site in 1949, according to the FIR filed by Haji Pheku, the father of Haji Mehboob.  
In a sense, both Dharamdas and Mehboob and directly related to the original parties in the matter. 
"Dharamdas ji said that Chief Minister wanted to meet me. He said that two sides meet and discuss the matter so I agreed. I said if the CM wants to meet me, I have no problem," Dharamdas said. 
On March 21, a Supreme Court bench headed by Chief Justice J S Khehar had suggested an out-of-court settlement and said that such religious issues can be solved through negotiations and offered to mediate to arrive at an amicable settlement.
But the Babri Masjid Action Committee has said an out-of-court settlement was not possible with Prime Minister Narendra Modi and Yogi Adityanath at the helm of affairs. The committee is providing legal assistance to one of the parties to the case, the Sunni Central Wakf Board.
"With Prime Minister Narendra Modi and Uttar Pradesh chief minister Yogi Adityanath at the helm of affairs, there is no hope that justice will prevail with the Muslims. Both have been BJP workers and supporters of the Ram temple movement," committee convener Zafaryab Jilani said.
Haji Mehboob, however, dismissed Jilani's comments as insignificant and said he was just a lawyer. 
"I do not know what Jilani sahab thinks. He asked me if I was ready to meet Prime Minister Narendra Modi, I said he is the country's leader. If they want to build a temple after leaving the land for mosque, why would I object?" he said. 
It was earlier reported that Yogi was to visit the town in Faizabad district to meet a number of seers who have been involved in the Ram Janmabhoomi movement.
His visit, however, did not materialise for unknown reasons.