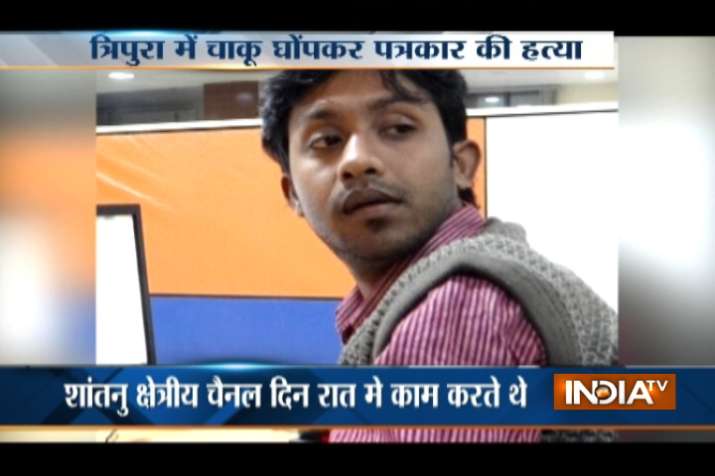 A journalist working with a local television channel was on Wednesday abducted and killed while covering a clash between two political parties, the Indigenous People's Front of Tripura (IPFT) and the Tripura Upajati Gan Mukti Parishad (TUGMP) tribal wing of Communist Party of India (Marxist) CPIM, in Mandai.
Meanwhile, internet data services have also been suspended in Agartala following the kiling of the TV journalist.
Santanu Bhowmik, who was attacked by unidentified persons, had gone to Mandai, about 35 kilometres from Agartala, to cover the clash.
Khowai Superintendent of Police Nagendra Debbarma told reporters that the clash took place when the Parishad supporters gathered at the bus stand at Khowai town to travel to Agartala for a GMP rally.
The IPFT workers attacked the GMP activists with sticks and iron rods and injured at least 118 of them, six seriously, and damaged at least 15 buses.
Bhowmick was found with serious injuries and was rushed to Agartala Medical College and Hospital where doctors declared him brought dead, Superintendent of Police of West district, Abhijit Saptarshi said.
Tripura Health Minister Badal Chowdhury has condemned the killing and state Information Minister Bhanulal Saha visited the hospital.
The state government has ordered inquiry into the death of the journalist. The Information and Culture Minister of Tripura Bhanu Lal Saha said, "It has been reported, will have to inquire and if so, will ask police to act properly."
Soon after the incident, journalists held protest outside the Chief Minister's residence and demanded an exemplary punishment for whoever is behind the killing. Section 144 has been imposed in two districts of Tripura.