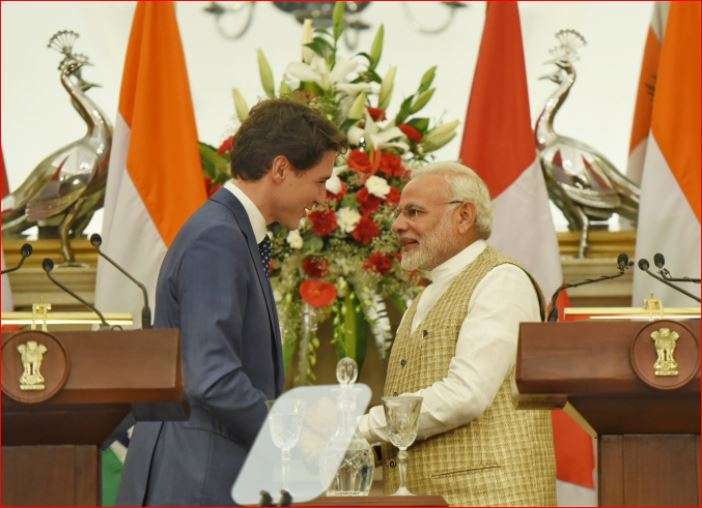 After holding extensive talks with his Canadian counterpart Justin Trudeau, Prime Minister Narendra Modi today made it clear that those challenging India's sovereignty, unity and integrity cannot be tolerated, seen as a veiled reference to the Canadian government's soft approach towards the Khalistan issue.
 
Modi also asserted that there cannot be any place for those who misuse religion for political motives and promote separatism. 
"We discussed the entire gamut of bilateral partnership, and identified concrete steps to boost cooperation. We agreed to strengthen our defence cooperation," Modi said, while noting that terrorism and extremism were threats for democratic countries such as India and Canada. 
Trudeau's pro-Khalistan approach is being criticised by many including Punjab Chief Minister Amarinder Singh, who raised the issue with the Canadian prime minister during a meeting. On his part, Trudeau had assured Singh that his country does not support separatism in India or elsewhere. 
Modi made it clear that those who challenge India's sovereignty, unity and integrity cannot be tolerated. 
In his remarks, Trudeau avoided any reference to separatists or terrorism. 
"We share respect for democratic traditions and pluralism," he said adding the two leaders discussed ways to strengthen people-to-people ties between the two countries. 
Modi said the National Security Advisors (NSAs) of the two countries were giving finishing touches to the Framework for Cooperation and Countering Terrorism and Violent Extremism between the two countries.
Modi said that during Friday's talks, both sides also discussed means to further deepen economic relations.
"We have asked our negotiators to double their efforts to finalise the Bilateral Investment and Promotion Agreement and the Comprehensive Economic Partnership Agreement," he said.
Modi said they have also asked the officials of their countries to re-double their efforts to finalise the bilateral free trade agreement. 
After extensive talks between Modi and Trudeau, the two sides inked six pacts, including on energy cooperation. 
Earlier, External Affairs Minister Sushma Swaraj called on the Canadian prime minister and discussed various issues of mutual interest. 
Swaraj had a warm meeting with Trudeau and discussed ways to strengthen and deepen the partnership between the two countries, Ministry of External Affairs (MEA) Spokesperson Raveesh Kumar tweeted.  
In a major embarrassment to Trudeau, on Thursday his country's High Commission here had to rescind an invitation to a convicted Khalistani separatist, Jaspal Atwal, for a reception that was hosted in honour of Trudeau.
After Trudeau's arrival on Saturday, it was only on Thursday evening that Modi tweeted his welcome message before greeting the visiting dignitary with a hug ahead of the ceremonial reception at Rashtrapati Bhavan on Friday.