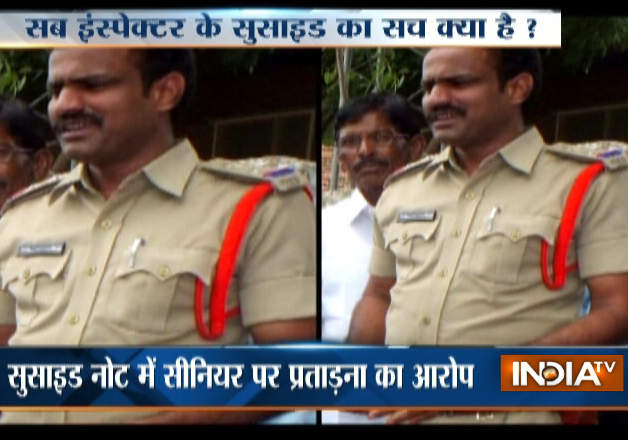 A police sub-inspector allegedly committed suicide by shooting himself with his service revolver in Medak district in the wee hours today.
The deceased has been identified as Ramakrishna Reddy (45). He was posted at Kuknoorpally Police Station.
Family members of Reddy, a 2009 batch officer, alleged that he took the extreme step due to harassment by senior officers.
They also claimed that Reddy had written a suicide note in which he mentioned the reasons for taking the extreme step. However, police remained tight-lipped about any suicide note found at the spot.
Reddy shot himself in the forehead with his service revolver in his house at around 1.30 AM when he was alone, Togutta Police Station's circle inspector said.
The other policemen rushed to his quarters soon after hearing the sound and found Reddy dead. The body was later shifted to a hospital at Gajwel.
Police have registered a case and are looking at various angles to find out the reason for the suicide.
Reddy was a native of Bakkamantram Gudem village in Mathampally madal of Nalgonda district. He had sent his wife and two children to their parental home two days back. Before joining the police force in 2005, he had also worked in the Army, according to his relatives.
The suicide note reads:
Respected SP sir,
I am writing this letter to you because from last few days DSP, CI and two head constables and one constable have harassed me. And this is why I want to die. I am going through a very difficult time in my life. I am clueless why DIG sir is upset with me. He takes every little thing very seriously. I am giving up my life because of following personas -- DSP Sridhar Goud, ex-Circle Inspector Venkatiah, incumbent CI Ramanjaneyulu, head constable and police constable Yedav Reddy and Srikant. All of them harassed me a lot. I have given Rs 15 lakh to DSP Sridhar Goud in last three months. I have been giving cash to CI from last eight months. Despite of this, they tortured me. DSP, two CIs, two head constables and one police constable are responsible for my suicide.
Ramakrishna Reddy

Sub-Inspector