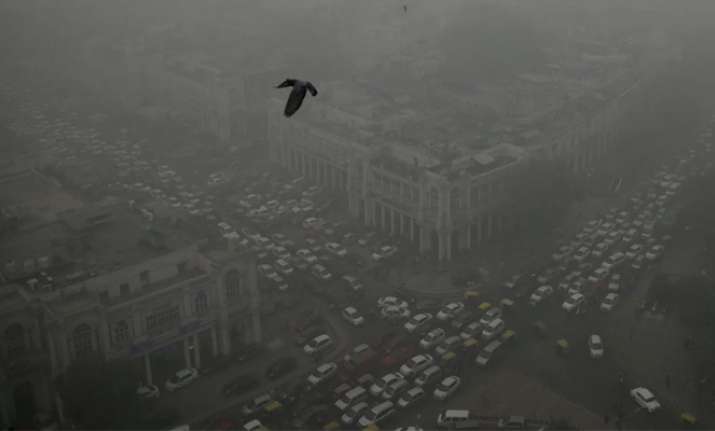 The Supreme Court today directed the Centre to devise a common minimum programme to restrain air pollution in Delhi and National Capital Region within 48 hours.
The Centre has been asked to inform the apex court about the policy, if any, to tackle the issue of rising hazardous haze in the national capital.
Earlier in the day, the National Green Tribunal (NGT) directed Delhi and the four neighbouring states to give complete mechanism on implementation of its directions to curb air pollution.
"What major step you have taken to curb the pollution?" the NGT asked the Delhi government. 
"This is a matter of life and death. You have forced the children to confine themselves to their houses. Even a mask has a limit. Beyond a degree of pollution, masks may be detrimental," it observed. 
The tribunal said that all the three had done 'nothing' to combat the menace till yesterday. 
"Officers present here aren't revealing ground reality. All we see is construction work on Delhi-Chandigarh route that violates guidelines," it said. 
"You have any data that shows reduction of smog? Why are you sprinkling water through cranes and not helicopters? Why couldn't you deploy helicopters for sprinkling water to improve air quality? You are playing jokes. Cranes which fix lights are given for sprinkling water," the tribunal said, rebuking the city government.
Lawyers, representing the three states admitted before the court that they had 'not fully read' a series of orders by the NGT against pollution.
"Why you (three state governments) skipped reading our six judgements? Read all judgements first, analyze. What steps you propose?" it said.
The green body ordered that no stone crusher and brick kiln will operate for one week.
The Delhi government, in a first, yesterday issued a health advisory asking people to avoid highly-polluted areas and cautioned those with asthma and lung ailments not to venture out for any activities, even as the city continued to battle its worst smog in 17 years. 
Cases of severe breathlessness, asthma and allergy have sharply risen in Delhi as the city remains blanketed in thick layer of toxic air due to the smog. 
The situation earlier had prompted Delhi High Court to observe that it was akin to 'living in a gas chamber'. The Centre had termed it an 'emergency situation' and called a meeting of Environment ministers of all neighbouring states. 
Meanwhile, schools in Delhi have been shut down till tomorrow, with reports suggesting that the city government was considering to include another session of the odd-even scheme to restrict the use of private cars on roads.