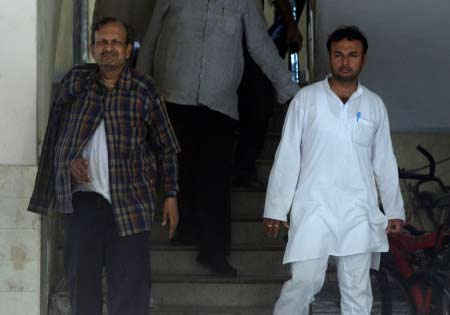 Tainted bureaucrat BK Bansal who allegedly committed suicide along with his son yesterday, blamed Central Bureau of Investigation (CBI) officials probing the corruption case against him for the decision to end their lives. 
The police have recovered two suicide notes from Bansals' residence, purportedly written by the official, who served as a former Corporate Affairs Director General, and his son Yogesh.  
The suicide notes, a seven-page note purportedly written by Bansal and a two-page note by Yogesh dated September 26, 2016, a day before their bodies were discovered in their flat here, alleged that a CBI DIG, two women officers and a "fat" Havaldar of the agency had tortured his wife and daughter driving them to suicide in July.  
CBI Spokesperson RK Gaur said the agency has received a communication from Delhi Police in which the suicide notes have been attached. The CBI has constituted an internal inquiry to look into the allegations levelled against its officials, the investigative agency said today.  
In the note purportedly signed by Bansal, it is alleged that his wife and daughter had shared the details of "torture" with friends and neighbours before taking the extreme step. 
He alleged that the CBI DIG also claimed that he was close to a politician of the ruling party and dared Bansal to do whatever he wanted.  
Bansal alleged that the women officers slapped his wife even as the DIG abused her over phone and threatened to torture Bansal who was in CBI custody.  
"Even if I was at fault in the case, why were my wife and daughter pushed to suicide by CBI officials," the note read.  
"This cannot be termed as suicide. It is a murder of two ladies," it read, adding that the DIG and the "fat" Havaldar should be subjected to lie detector test to know the truth.  
Bansal also urged Director CBI to probe the matter as the DIG had threatened him before the suicide of his wife and daughter that "they will be subjected to such a torture that they will ask for death but won't get it". 
Bansal's note, however, appreciated the investigating officer, saying he always assured him that no harm will come to him. 
His son Yogesh, in his purported suicide note, has identified one more officer in addition to four officers already named by his father. 
Yogesh alleged that he was "unofficially" subjected to "mental and physical" torture to an extent that he is forced to take such a step. 
He alleged that the five CBI officers including the DIG had "unofficially and off the record tortured him, his mother and his sister". 
"My mother and my sister were against suicide but they were tortured to such an extent that they took the step," he alleged, adding that they were "murdered" by CBI officers and supported by a neighbour who made fun of their situation. 
Bansal allegedly hanged himself along with his son at their residence with a purported suicide note claiming "harassment" by CBI, barely two months after his wife and daughter ended their lives following his arrest in the alleged corruption case. 
The Additional Secretary-rank officer in the Ministry of Corporate Affairs was arrested by CBI on July 16 for allegedly accepting bribe from a prominent pharmaceutical company. 
CBI had carried out searches at eight locations in connection with the case during which the agency had claimed to have made cash recoveries. 
"We have today received communication from Delhi Police enclosing therewith the purported hand written notes of B K Bansal, then DG (Ministry of Corporate Affairs), Government of India and his son Yogesh Bansal," CBI spokesperson RK Gaur said. 
"It contains allegations against certain CBI officials in connection with the on-going bribery investigation against B.K.Bansal and others," Gaur said in a statement. 
"We have examined the matter and decided to probe the allegations. CBI is fully committed to conduct investigation in a fair and professional manner without harassment to any one and strictly within the parameters of law," the statement said. 
He added that if any violation is established during the probe, strict action will be taken against the CBI officials concerned. 
"The Competent Court will be informed," he said. 
CBI constitutes internal probe to look into allegations of torture by senior bureaucrat B K Bansal who had committed suicide.