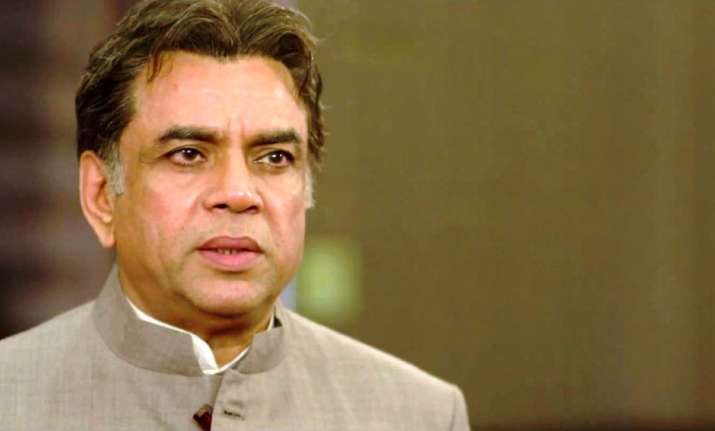 The Shiva Sena has come out openly in support of actor-politician and BJP MP Paresh Rawal while heavily slamming Indian author Arundhati Roy.
The Sena termed Rawal's comment on Twitter as a befitting reply to Roy who was opposed to the honour bestowed upon Major Nitin Leetul Gogoi. 
Asserting that the man who was tied to the jeep by Major Gogoi was instigating violence, the Shiv Sena, in an editorial in its mouthpiece 'Samna', slammed Roy and said that people like her who raise their voices professing human right violation for an anti-national are worth 'pity.'
"When a video of a man being tied to jeep in Kashmir surfaced, our Army was blamed for it. These so called supporters of human rights started sympathising with an anti-national, who was provoking stone-pelters. Arundhati Roy, who was vouching for the rights of an anti-national, was given a befitting reply by Paresh Rawal Ji," the editorial read.
The Shiv Sena also urged Prime Minister Narendra Modi to ponder over a law, which would punish people who support anti-national elements.
Rawal raked up a Twitter storm when he took to the micro-blogging site to post a seemingly out-of-context tweet that conveyed the idea of 'tying' Roy to an Army jeep, drawing reference from a similar incident when a Kashmiri resident was tied to a jeep last month.
"Instead of tying stone pelter on the army jeep tie Arundhati Roy!", the Lok Sabha member tweeted on late Sunday night.
Rawal's tweet drew ire on social media with people condemning the actor. While some said he lacked education, many highlighted the irony of his statement vis-a-vis his powerful performances in the movies.
Also Read: Paresh Rawal tweets 'Arundhati Roy should be used as a human shield', stirs row
An award-winning writer, Arundhati Roy is known for her controversial views on Kashmir. She has also widely criticised the Army's role in the Valley.
In April, a Kashmiri resident, allegedly a stone-pelter, was tied to an Army jeep as a human shield. This incident sparked an outrage in the Valley and across the country, following which an inquiry was launched into the incident. 
(With ANI Inputs)