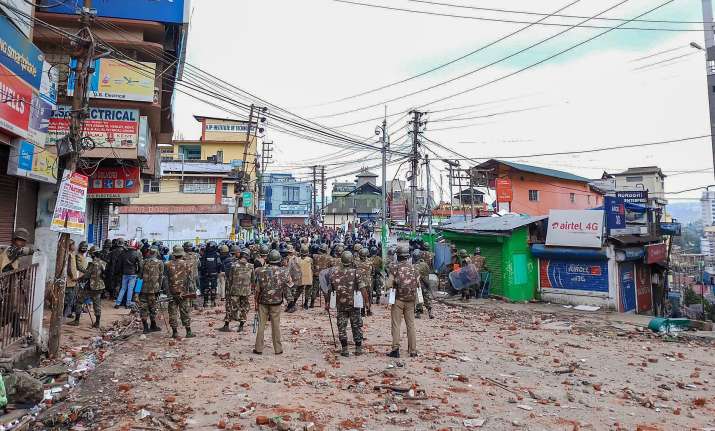 The curfew will be lifted for seven hours on Sunday in curfew-bound areas in Meghalaya's capital Shillong, but restrictions will remain in force, a senior government said on Saturday.
"Curfew would be lifted from 8.00 am to 3.00 pm tomorrow (Sunday) in curfew areas under Lumdiengjri Police Station and Cantonment Beat House areas to allow people to get their essential commodities," Deputy Commissioner in-charge East Khasi Hills district, Peter S Dkhar, told media, adding that life is normal in other parts of the city and examinations scheduled for Sunday will not be affected. 
Dkhar, however, said that suspension of the internet on mobile services would continue beside prohibiting the sale of petrol, diesel etc, in loose jerricans, bottles and any other containers to the public by all petrol pumps within the district.
The magistrate also appealed to the people not to trust false reports propagated in social media like attacks on a gurdwara in the city.
"The situation is still tense but under control. The Army is on standby and will be deployed if the situation warrants. The district administration and the state police are making all efforts to restore peace and normalcy," he said.
Also read | Curfew clamped in 14 Shillong localities, internet services suspended after social media triggered tension
Dkhar imposed indefinite curfew in areas under Lumdiengjri Police Station and Cantonment Beat House from 4 am on Friday in view of the breakdown of law and order in Motphran, Mawkhar and adjoining areas following Thursday's clash.
During the violence, a mob torched a shop, a house and damaged at least five vehicles here, besides injuring a senior police officer.
Requisitioned by the state government, Army troops held flag marches on Saturday and rescued about 500 people, including 200 women and children, Defence spokesperson Ratnakar Singh said.
General Officer Commanding 101 Area Lt Gen D S Ahuja visited the rescued people at the Army cantonment.
Superintendent of Police (City) Stephan Rynjah was injured on Friday night after he was hit by a rod. He was admitted to the Shillong Civil Hospital, a police officer said.
At least 10 persons, including policemen, have also been injured in the violence, which has triggered demands that the government take action against alleged illegal settlers.
State police personnel were attacked by stone pelters in the Motphran area of the city. Teargas shells were used to disperse rioters but people in other parts of the city mistook 
them for police firing, the officer said.
The clashes had begun after a bus handyman was beaten up allegedly by a group of residents of Them Metor area on Thursday afternoon.
Trouble escalated when rumours spread on social media that the handyman had succumbed to injuries, prompting a group of bus drivers to converge at Them Metor. The police had to fire teargas shells to disperse them, officials said.
The handyman and three injured persons were taken to a hospital from where they were released after being administered first aid.
Four persons, accused of being involved in the assault of three local boys, have been arrested, they said, adding that 11 others have been picked up for attacking the police. 
Dkhar said the administrations is concerned with the spreading of rumours that has affected normalcy in the affected areas.
Chief Minister Conrad K Sangma, who chaired a high-level meeting yesterday, had appealed for calm and urged the people to help bring back normalcy in Shillong.
Meanwhile, several groups including the Khasi Students Union, the Federation of Khasi Jaintia and Garo People (FKJGP) and the Hynniewtrep Youth Council demanded that those involved in the assault of local boys be punished and the illegal settlers at Them Metor evicted.
"Them Metor has become a den for anti-nationals and it is sad that several governments in the past have not taken initiatives to evict them and provide them space somewhere else," said FKJGP president Wellbirth Rani. 
(With inputs from PTI, IANS)