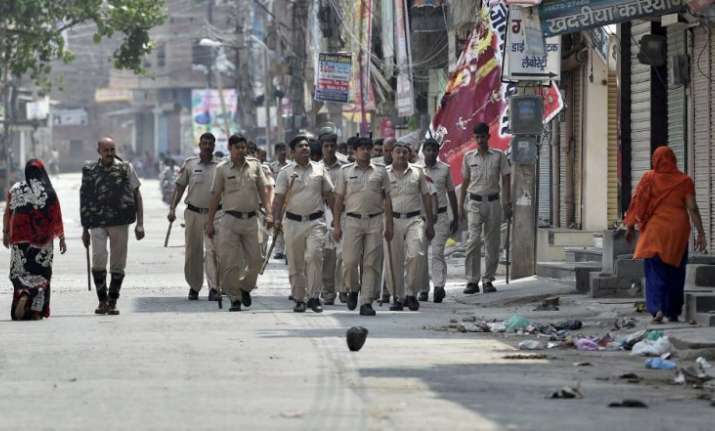 Curfew was clamped in at least 14 localities of Shillong today and internet services were suspended after violence took place following social media rumours. There were clashes between groups of bus drivers and residents that injured several policemen as well, a senior district official said. 
The clashes had begun after a bus handyman was allegedly assaulted by a group of residents of Them Metor area yesterday afternoon, the officials said. 
Trouble escalated when rumours spread on social media that the handyman had succumbed to injuries, prompting a group of bus drivers to converge at Them Metor. The police had to fire teargas shells to disperse them, an official said. 
The handyman and three injured persons were taken to a hospital where they were released after being administered first-aid. 
Curfew was imposed at 4 am today and will remain in force till further orders, East Khasi Hills District Deputy Commissioner P S Dkhar said. 
Till noon, 10 locals were picked up while four were arrested. Several policemen have also been injured in the clashes, the official said. 
Chief Minister Conrad K Sangma reviewed the law and order situation in the afternoon after fresh clashes erupted between locals, armed with stones, and security forces in Motphran area of the city despite the curfew. 
Home Minister James K Sangma and other senior Cabinet colleagues attended the high-level meeting in which home department officials were also present. 
We are monitoring the law and order situation closely in Shillong and efforts are being made to bring normalcy in the affected areas, Conrad Sangma told PTI. He also urged the people to maintain peace. 
Internet services have been suspended in East Khasi Hills for 24 hours from 1.30 pm, following orders from Additional Chief Secretary MS Rao. 
Meanwhile, Motphran remained tense as stone pelters clashed with security forces. 
A magistrate at the site said about 100 special mob control team of the state police came under intermittent attacks from a group of about 100 activists armed with stones and catapults. 
Another meeting to take stock of the law and order situation was also convened by the East Khasi Hills District Deputy Commissioner P S Dkhar and the Superintendent of Police with three local MLAs and locality elders. 
The district administration has imposed curfew in at least 14 localities under Lumdiengjri police station including Them Metor where the clashes first broke out. 
A journalist was also among those injured in the clashes and many youths were picked up after they were found trying to instigate a mob last night, he added. 
The areas where curfew has been imposed include localities under the Lum Dieng Jri Police Station and the Cantonment Beat House.
(With PTI inputs)