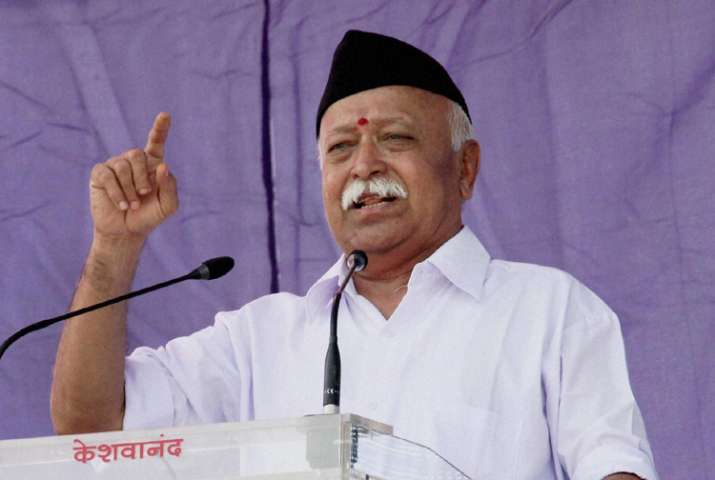 Dismissing allegations that RSS is a "remote control" of the NDA govt, organisation's chief Mohan Bhagwat today said its aim was to build a strong nation with 'Hindutva' at its core. 
Addressing the concluding function of a four-day-long meeting of Rashtriya Swayamsevak Sangh (RSS) pracharaks from Gujarat, Maharashtra and Go here, Bhagwat said that the Sangh's aim is to build a "strong India with the right leader and with Hindutva at its core."
"There is a need to bring the right kind of change in the society based on the ideology of Hindutva," he said. 
RSS will strive to bring about right changes in the society to make the nation strong in the hands of a "right leader", he said without naming anyone. 
"RSS is not a remote control," he said in an apparent reference to the allegation of opposition parties that it dictates terms to the BJP-led NDA Government. 
"Many misgivings about the Sangh are prevailing in the society for various reasons and people talk about the Sangh without knowing about it or the essence of its activities," he said.
"RSS is for peace and solution to all kinds of problems faced by the world and India, and Hindutva is the core of Hindustan, it is its identity," the RSS supremo added. 
"It is wrong to look at Hindutva as an ideology of a particular religion or community. Sangh does not ask anybody his caste or creed when he joins us after believing in our ideology," he said. 
Bhagwat also said RSS does not take any help from the government. 
"RSS does not beg for financial assistance from anybody," he said adding that the organisation is not for those who want to make money.
"...only those whose integrity is not doubtful can become its members," he said. 
The world has now begun to recognise the importance of Hinduism, he said.
(With PTI inputs)