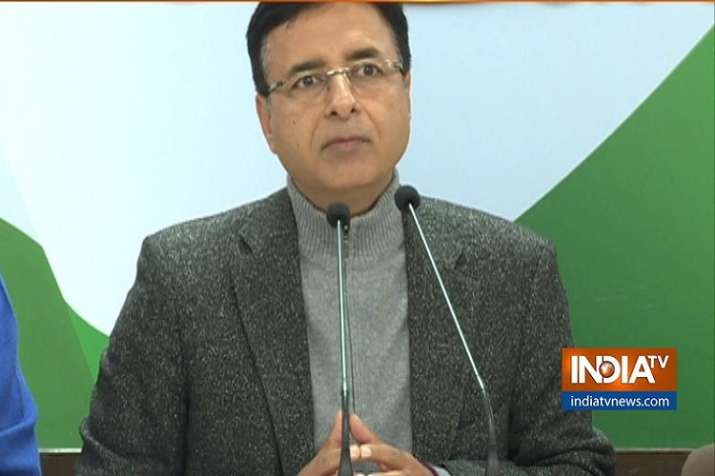 Minutes after Prime Minister Narendra Modi's detailed 95-minute-long interview to ANI, Congress atttacked the prime minister and said that his interview was full of rhetoric and there was no mention of ground realities or any concern for promises made by him to the people.
Congress spokesperson Randeep Singh Surjewala said; "Summary of PM Modi's monologue interview: 'I, Me , Mine, Myself'. The country is suffering from your I's and Lies".
He evoked the same sentiments via Twitter too.
Citing ten instaces including Demonetisation, Rafale Corruption, GST, farm distress and bank frauds, Surjewala said that PM's interview was full of 'jumlas' and bereft of 'ground reality'.
In his tweet, he wrote; "bereft of ground reality, jumlas galore, Modiji's interview like a parody'.
Lashing out the PM Modi-led BJP government. Surjewala said; "Everyday  new scams are coming out under BJP rule. In one company, whose director is Amit Shah, crores of old notes have been deposited".
He said people want to know answers to 10 key promises made by Modi. 
"Where are Rs 15 lakh that was promised in each Indian's bank account by you? Rs 80 lakh crore of black money that was to be brought to India within 100 days from abroad? Did it come? The truth is that not a single rupee has been brought back," Surjewala said.
The Congress leader said Modi had promised to create two crore jobs a year. 
"It would have been nine crore jobs in 55 months, but could you create even nine lakh jobs for India's youth? You promised cost plus 50 per cent profit to India's farmers, but today they are forced to sell their onion crops at 50 paise a kg. Farmer distress and farmer suicides rule the roost," he said.
He alleged that GST has become "Gabbar Singh Tax" and its flawed implementation has "destroyed small and medium businesses".
"The nation wants to know the demonetisation disaster, the scam and the people responsible for it. Rs 3.5 lakh crore were lost due to the demonetisation disaster. 12O people died in bank lines. People lost all their earnings. Women of India lost their entire 'istri dhan'. Yet you continue to justify the DeMo scam and disaster," he said. 
Touching up the issue of national security, he said: "It (national security) has been deeply imperilled. In 55 months, 428 jawans were martyred in Jammu and Kashmir alone as 278 civilians were lost to terrorism. Naxalism cost us lives of 248 jawans and 378 civilians," he added. 
On the Ram Temple issue, Surjewala said that there is no need for any ordinance. "Results of three states show that BJP is on its way out in 2019. Congress believes Ram temple issue is with Supreme Court. Whatever decision it makes should be followed. No need for ordinance", he stated.
Attacking PM Modi over Rafale deal, Surjewala said; "Former rench President Francois Hollande said Rafale deal was taken away from HAL and given to Reliance. Therefore, the charges are against him as well. This is why he doesn't want JPC on Rafale".
Responding to the Prime Minister's claim that opposition parties are politicising the surgical strikes, Surjewala said; "Who went to Pakistan without invitation? It was Modi. He got a return gift as well. The attack on Uri where our jawans lost their lives".
Senior Congress leader Anand Sharma said the people of the country cannot be "fooled" through a "fixed interview" and dared him to face Parliament and a press conference. 
The former Union minister said the prime minister did not spare the people of the country from his penchant for "false promises, hollow claims and propaganda". 
Sharma also attacked the prime minister over his claims on surgical strikes, saying "it is a national shame that the Prime Minister seeks to politicise the surgical strike and divide the country." 
"PM Modi did not spare our people of his penchant for false promises, hollow claims and propaganda even on the New Year day. The habitual peddler of untruths and lies has signalled a nasty narrative for the 2019 election campaign. 
"People cannot be fooled through a fixed interview. Have the courage to face us in Parliament or address a press conference. Having betrayed the people, do not beg Lord Ram to save you. He did not ask you to lie in the first place," Sharma tweeted. 
He said the country is proud of its armed forces, their courage and sacrifice and they belong to and defend India and do not belong to any political party. 
"Let me remind you that PM Modi did not acknowledge the historic contribution of Smt Indira Gandhi in the liberation of Bangladesh and the surrender of Pakistani Army. The task of guiding troops is best left to our brave commanders".
In the interview broadcast by various television channels, Modi talked about a host of issues including surgical strikes, the Ram temple construction and personal attacks on him by the Congress.
Modi accused the Congress leadership of politicising and delaying the legal process in clearance of Ram temple construction. 
WATCH VIDEO: