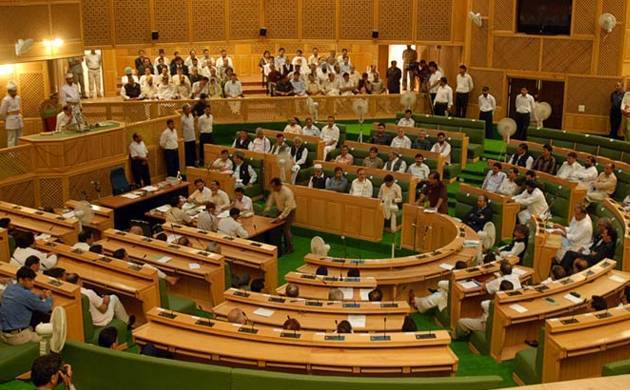 The Jammu and Kashmir Legislative Assembly today passed a landmark Bill to extend reservation benefits to Pahari speaking people in the state. The issue was hanging fire for many decades.
The Jammu and Kashmir Reservation (Amendment) Bill 2014, aimed at amending Jammu and Kashmir Reservation Act-2004, was introduced in the House by Minister for Social Welfare Sajad Gani Lone. 
Explaining the objectives and reasons for introducing the bill, Lone said Pahari speaking people are mainly concentrated in remote areas of the state and are a subject to considerable economic distress. 
They are backward socially, economically and educationally and mostly are not able to compete with those sections of the society who are better placed in terms of socio-economic position as also in terms of access to services like education and healthcare, he said. 
The minister said with the scheduling of Gujjars and Bakerwals as tribes, the Pahari speaking people were not able to derive any benefit in terms of getting employment and other amenities. This testifies that Pahari speaking people are suffering from socio-economic backwardness and inadequacy of representation as a class, he said. 
The bill aims at bringing the community within the ambit of positive discrimination as governed by the constitutional principle of affirmative action and as applied to other marginalised communities of the country, Lone said. 
The Legislative Assembly also passed a bill to amend the Jammu and Kashmir State Commission for Backward Classes Act, 1997, to extend the term of the chairperson and members of the commission for five years. This bill was also introduced in the House by Sajad Gani Lone. 
Explaining the objectives and reasons behind introducing the amendment Bill, he said, "It is difficult to find suitable person to be nominated as Chairman/Members of the Commission, owing to the fact that the said person, should be well versed with the knowledge of the Castes/Backward class formations in J&K State." 
In order to overcome this difficulty, it was felt appropriate to extend the term of the members and the chairman of the State Commission for Backward Classes to five years, the minister said.