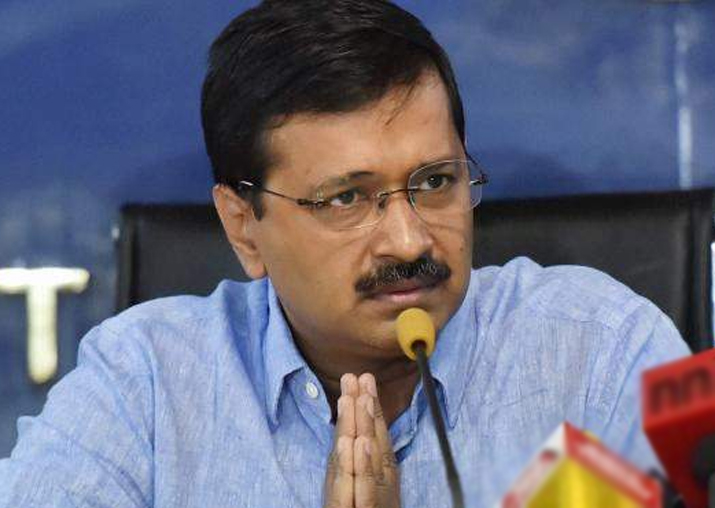 In a major setback to Delhi Chief Minister Arvind Kejriwal, the Election Commission is learnt to have recommended the disqualification of 20 Aam Aadmi Party (AAP) MLAs for simultaneously holding office of profit, PTI reported.
The EC has made the recommendation to President Ram Nath Kovind who will take a final decision. The Election Commission has reportedly informed the President that ECI has recommended that Office of Profit applies on AAP MLAs.
As it happened on Friday:
7 pm: Delhi HC posts the matter for hearing on Monday
# HC resumes hearing; EC counsel seeks time to get information saying he is unable to contact poll panel at this late hour.
# President Ram Nath Kovind has received the ECI's letter of recommendation. The President will inform the Ministry of Home Affairs about his decision. The MHA will then issue a notification. This may take 2-3 days of time. 
6:20 pm: Delhi High Court refuses to grant interim relief to 20 AAP MLAs facing disqualification in Office of Profit case 
# "You decide on your own that you don't want to go Election Commission. What will you do if you don't reach the EC despite several reminders. The EC kept asking four your response": HC 
# The AAP MLAs argued that the EC had asked them to clarify their position with all relevant documents and we were about to file our reply. 
Names and Constituencies of 20 AAP MLAs facing disqualification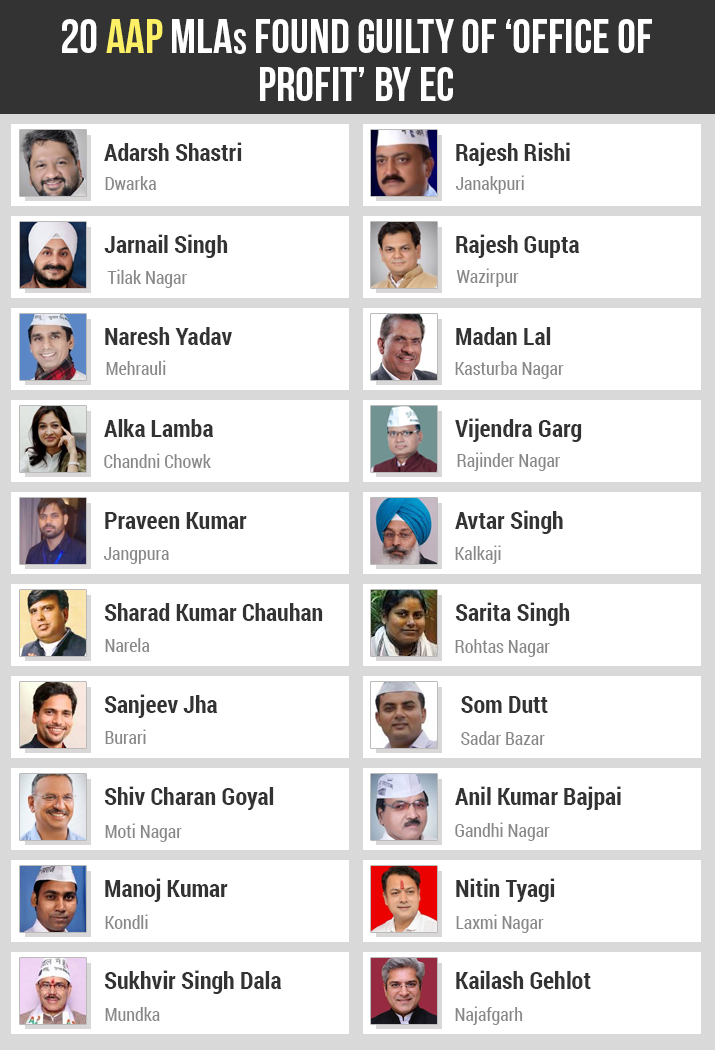 6 pm: Delhi High Court raps AAP MLAs for not approaching Election Commission on time 
5:40 pm: Hearing begins in Delhi High Court 
5 pm: AAP MLAs move Delhi HC against EC recommendation to disqualify 20 of them for allegedly holding offices of profit. AAP MLAs' petition mentioned before a bench headed by Acting Chief Justice Gita Mittal, to be heard today itself: PTI 
4:25 pm: From "India against Corruption" to "I am Corruption", Aam Aadmi Party has covered the journey in a short time. Do they still have morality to stay in government in Delhi?: BJP's Sambit Patra
4:15 pm Kejriwal Ji does't have the moral right to stay in his post, he must resign. Congress will carry out a 'jan aandolan' regarding the same: Congress leader Ajay Maken
​3 pm: There is no credible information. All reports are based on sources. I want to ask if people from constituencies of these 21 MLAs have seen them utilising government facilities like car, house or salary.No hearing has been held before EC until now: Saurabh Bhardwaj of AAP
# ​According to news agency ANI, AAP has approached the Delhi HC against ECI's recommendation to disqualify their 20 MLAs in Office of Profit case
# It is a moral defeat for Chief Minister Arvind Kejriwal and he should own responsibility & resign: Delhi BJP president Manoj Tiwari
Quoting its highly placed sources, the PTI report said that in its opinion sent to President Ram Nath Kovind, the Election Commission said by being parliamentary secretaries, they held office of profit and were liable to be disqualified as MLAs of the Delhi Assembly.
The President is bound to go by the recommendation of the Commission.
However, news agency ANI quoted the Election Commission as saying that since recommendation on AAP MLAs is sub judice, it will not comment on what recommendation has been given to the President.
The news agency also reported that the AAP has approached the Delhi High Court contesting EC's recommendation. 
Aam Aadmi Party approached Delhi High Court against Election Commission's recommendation to disqualify their 20 MLAs in Office of Profit case.

— ANI (@ANI) January 19, 2018
In cases where petitions are made seeking disqualification of lawmakers, the President sends a reference to the EC which decides on the case by sending back its opinion. 
In the present case, the petition was made to disqualify 21 MLAs, but one had resigned a few months back There, however, was no official word from the Commission.  When contacted, Chief Election Commissioner A K Joti said since the matter is sub judice, he would not offer any comment on the issue.
However, there is no immediate threat to the stability of Kejriwal government as the AAP would still have 45 MLAs in the 70-member Assembly even if the President disqualifies all these 20 AAP MLAS.
It should be noted that AAP had won 67 seats in 2015 Assembly elections. However, its strength got reduced to 65 after one of its MLAs, Ved Prakash from Bawana joined the BJP in March last year just before the municipal elections and another MLA Jarnail Singh resigned ahead of Punjab Assembly elections.
After assuming office in Delhi, the AAP government in March 2015 appointed 21 MLAs as parliamentary secretaries to its ministers.
When the appointments were opposed by the BJP and the Congress, the government excluded the post of parliamentary secretary from the office of profit category. The Delhi High Court had in September 2015 struck down the appointments.
Reacting to the development, the Bharatiya Janata Party termed the AAP as world's most corrupt party and demanded Kejriwal's resignation.
Delhi BJP president Manoj Tiwari welcomed the decision and said that it is a moral defeat for CM Kejriwal.
"He should own responsibility and resign," he said.