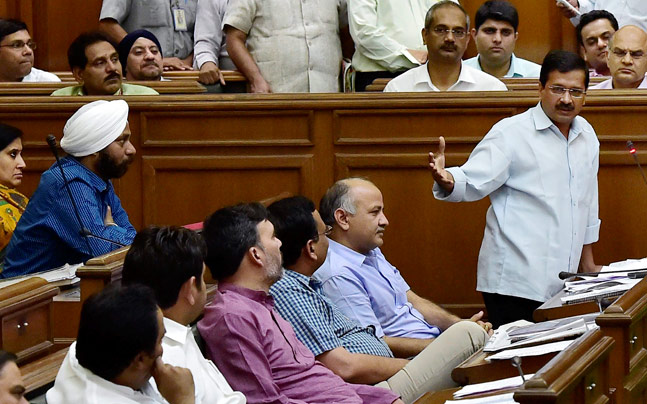 In a massive blow to Delhi Chief Minister Arvind Kejriwal, Election Commission has reportedly recommended the disqualification of 20 Aam Aadmi Party (AAP) MLAs for simultaneously holding offices of profit.
If the President accepts the recommends made by the Election Commission (EC), it will be huge setback for the AAP as its strength will do down drastically in the Delhi Assembly.
However, there is no immediate threat to the stability of Kejriwal government as the AAP would still have 45 MLAs in the 70-member Assembly even if the President disqualifies all these 20 AAP MLAs.
Here are the names of all these 20 MLAs:
1. Kailash Gehlot (Najafgarh constituency)
2. Vijendra Garg  (Rajinder Nagar constituency)
3. Praveen Kumar  (Jangpura constituency)
4. Adarsh Shastri (Dwarka constituency)
5. Alka Lamba  (Chandni Chowk constituency
6. Sanjeev Jha (Burari constituency)
7. Sharad Chauhan (Narela constituency)
8. Madan Lal Khufiya (Kasturba Nagar constituency)
9. Shiv Charan Goyal (Moti Nagar constituency)
10. Sarita Singh (Rohtas Nagar constituency)
11. Naresh Yadav (Mehrauli constituency)
12. Rajesh Gupta (Wazirpur constituency)
13. Rajesh Rishi (Janakpuri constituency)
14. Anil Kumar Bajpai (Gandhi Nagar constituency)
15. Som Dutt (Sadar Bazar constituency)
16. Avtar Singh (Kalkaji constituency)
17. Sukhvir Singh Dala (Mundka constituency)
18. Manoj Kumar (Kondli constituency)
19. Nitin Tyagi (Laxmi Nagar constituency)
20. Jarnail Singh (Tilak Nagar constituency)