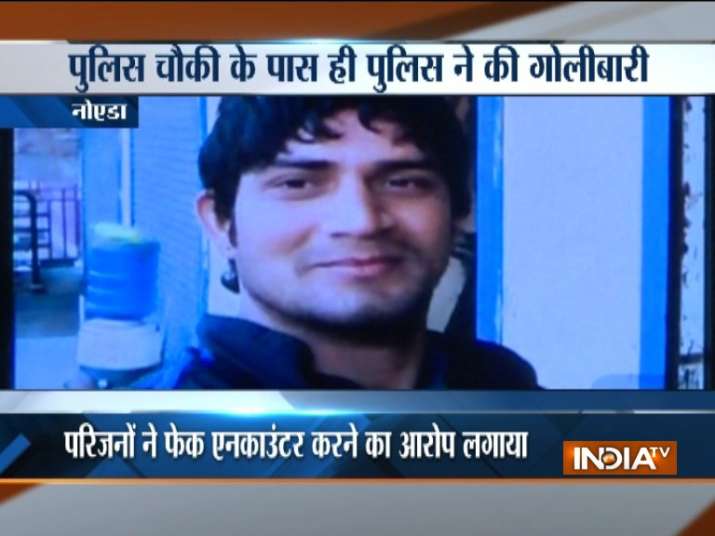 A Noida sub-inspector allegedly shot a gym-owner in Noida on Saturday night. The victim's family has alleged that the sub-inspector knew the victim and shot him for 'no reason'. 
Jitendra Yadav, who was returning from his sister's shagan ceremony from Baharampur with his three friends, was pulled over by police near Sector 122 police chowki. According to the family, the sub-inspector first argued with Yadav and then shot him in the neck. The family had claimed that Yadav's co-passenger was also shot in the foot to scare him off from testifying against the SI, however, the claims were refuted later. 
Speaking to media on Sunday, the family members alleged that Yadav was shot for his caste. Heavy security has been deployed in the region to maintain peace. 
#Noida: Jitendra Yadav's family alleges he was shot in a 'fake' encounter by Police, say, 'it was done because of our caste.' Jitendra was shot last night in Sec-122 and is currently admitted at Fortis, where heavy security is deployed at present. pic.twitter.com/Ev9YFfPnNm

— ANI UP (@ANINewsUP) February 4, 2018
The accused sub-inspector goes to the gym owned by the victim. 
Jitendra Yadav has been admitted to Noida's Fortis hospital, where his situation is said to be critical. 
When the incident came to light, Noida DIG Luv Kumar met the family at the hospital and assured them of a fair investigation. "I have told the family that they should give the complaint in writing and we will file a case and make sure that it is an unbiased investigation. The guilty will be given due punishment," Kumar said. 
Brajesh Yadav, brother of the victim told media last night that the sub-inspector was under the influence of alcohol when the incident took place.
Two eyewitnesses have told India TV that the accused SI Vijay Darshan is 'like a gunda' and wants to do an encounter. 
The victim had no criminal record.