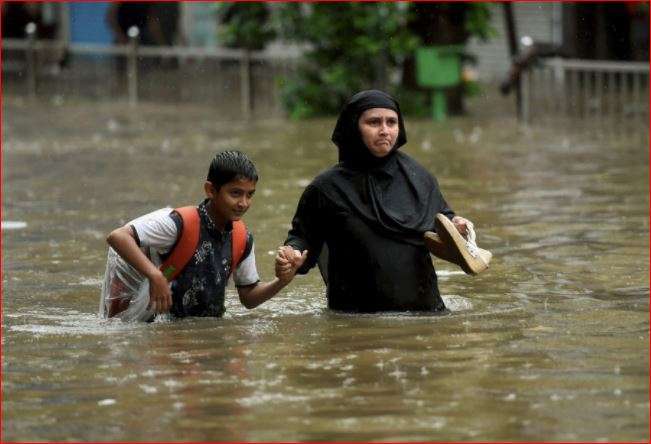 Heavy rainfall in India's financial capital Mumbai turned deadly on Tuesday after three people, including two children, were killed in two separate incidents in the suburb of Vikhroli. According to weather officials, Mumbai is experiencing the heaviest rainfall since July 26, 2005. At least 10 NDRF teams have been deployed in the city. The IMD has predicted extremely heavy rainfall in next 24-48 hours. They have also warned of a high tide occurring today. Indian Navy has been put on alert to handle any emergency. People were stranded in local trains till late Tuesday night. The passengers got some relief after the western line was restored after 12am in the night. All schools and colleges will remain closed today. Most of the government offices will also remain closed. However, the Bombay Stock Exchange (BSE) will function as usual. Toll collection has been stopped at the entry points of Mumbai till normalcy returns to the city. Ganesh Mandals have decided to immerse the idols of Lord Ganesha after 7 days instead of the usual 5 days, in view of the heavy water logging in the city.
LIVE UPDATES on MUMBAI RAINS:
04:56pm: 32-year-old man drowned in Powai lake, he was rushed to Mumbai's Rajawadi Hospital but declared brought dead. ADR registered: ANI
04:37pm: Mumbai police found a person unconscious in a car near Gandhi Market Sion this morning, was rushed to the hospital but declared brought dead. Sion police has registered Accidental Death Report in the case.
03:39pm: 3 NDRF teams prepositioned in Mumbai supplemented by more teams from Pune, additional teams kept as stand by at all NDRF Battalion locations
03:39pm: NDRF teams have been put on high alert and are keeping close watch over situation in Mumbai
12:00pm: IMD forecasts downpour in Mumbai,Pune, Nashik today
11:20am: 5-year-old girl washed away in Palghar Tuesday evening. She was travelling with her parents on bike . The bike overturned due to heavy water logging. The police rescused the parents but could not save the girl.
11:05am: Shiv Sena compliments BMC for ensuring that the situation did not "go out of hand"
10:30am: Mumbai's famed 'dabbawalas' cancel their services today in view of the disruption of suburban rail services.
10:28 am: 
Residents of Mumbai's Kurla slum say no help from administration #MumbaiRains pic.twitter.com/771j4Vp8NG

— ANI (@ANI) August 30, 2017
10:22am- Four people washed away in separate incidents following torrential rains since Tuesday
10:20 am: 
Be Safe.. #MumbaiRains pic.twitter.com/kyGcczpHUL

— Shehzaad Shaikh (@ShaikhShehzaad) August 30, 2017
10:02 am: Operations are normal at Mumbai Airport as of now: Airport PRO
10:00 am: 
Rains again.. . Going office let see how the nature reacts... stay safe... #MumbaiRains

— Paresh Vaktania (@VaktaniaParesh) August 30, 2017
9:40 am: 
Naval community kitchen @ CSMT & Parel providin food water #MumbaiRains pic.twitter.com/OawitswRmq

— deepak pande (@deepakpande77) August 30, 2017
9:30 am: Heavy rainfall begins again in Andheri, Pavai, Goregaon, Vikroli, Bandra, Kandiwali, Borilvli, Khar. 
9:10 am: All educational institutions and many offices are closed today: Subhash Talekar, Spokesperson, Mumbai Dabbawala Association
9:07 am: Dabbawalas won't operate today as they were not able to collect back lunch boxes which they delivered yesterday: Subhash Talekar, Spokesperson
9:05 am: 
Train services resume on Harbour line; Visuals from Guru Tegh Bahadur Nagar railway station #MumbaiRains pic.twitter.com/SpkYhKPgQu

— ANI (@ANI) August 30, 2017
8:37 am: 
#Maharashtra Severe water logging at Thane railway station in early morning hours following heavy rain pic.twitter.com/YL3UgIGhEc

— ANI (@ANI) August 30, 2017
8:33 am: 
My colleague @sneheshphilip tells us how @indiannavy serves food & water at CSTM station to stuck travellers #MumbaiRains #MumbaiFlooded pic.twitter.com/mnYNmSkEny

— Payal Mehta/પાયલ મેહતા/ पायल मेहता/ পাযেল মেহতা (@payalmehta100) August 30, 2017
8:26 am: 
#MumbaiRains List of Relief Centres in Mumbai and contacts pic.twitter.com/zpdU2dNDl7

— M. S. SEENIVASAN (@seenu_munusamy) August 30, 2017
07:39am- Central railway resumes services from Kurla to Dombivali 
07:23am- Local Train services running in following three sections- Kalyan to Karjat, Kalyan to Titwala, Thana to Kalyan
01:00am- Trains chug out of Churchgate station around midnight, suburban train services limping back to normalcy
00:15am- Two children among three killed in two separate house collapse incidents in wake of torrential rains, says Mumbai Police.
00:10am- On Tuesday, Mumbai recorded highest rainfall in a day in August since 1997, according to IMD. 
00:05am – Mumbai brought to standstill by heavy rainfall. At least three people killed due to building collapse.