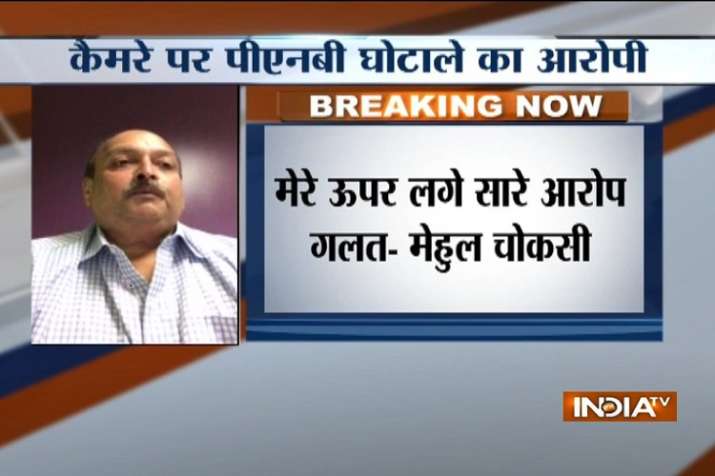 Fugitive diamond jeweller Mehul Choksi on Tuesday appeared before the media for the first time in months to rebuke allegations against him in the multi-crore Punjab National Bank scam. 
Choksi, who is currently in Antigua, claimed that "all the allegations leveled by Enforcement Directorate are false and baseless."
Responding to questions put up news agency ANI, Choksi said," All the allegations leveled by ED are false and baseless. They have attached my property illegally without ther  being any basis of the same".
In another short video clip tweeted by the news agency, Choksi, speaking about his passport being revoked by Indian authorities, said," The passport authorities revoked my passport altogether in view of which I was immobilised on February 16. I received an email from passport office which said that my passport has been suspended due to reasons of security threat to India. On February 20, I sent an email to the regional passport office, Mumbai, requesting them to revoke the suspension of my passport. However, I did not receive any reply from the regional office. Further, the regional passport office did not gave any as why my passport was suspended and how I was a security threat to India?"
Choksi and designer diamond jewellery businessman Nirav Modi and others are being investigated by the ED and other probe agencies after the bank fraud came to light early this year, following a complaint by the PNB that they allegedly cheated the nationalised bank to the tune of Rs 12,000 crore, with the purported involvement of a few employees of the bank 
The CBI and the ED have registered two FIRs each to probe the case. Both Choksi and Modi left the country before criminal cases were lodged against them. 
They had denied any wrongdoing
Choksi is at present based in the Caribbean nation of Antigua and India has sought his extradition from that country
The ED, a central probe agency under the union finance ministry, is investigating if the allegedly defrauded bank funds were laundered and proceeds of crime were subsequently used by the accused to create illegal assets and black money.
WATCH VIDEO: