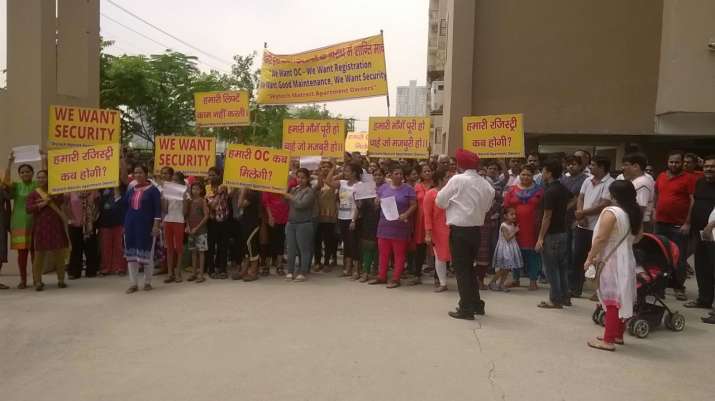 A massive crowd erupted today in sector 76 in Noida to stage a protest against a builder named Skytech Matrott for not delivering what all were promised to the residents.
As many as 400 people including 100 women and children participated in the demonstration with self-made cartoons.
As per the locals, the builder is not willing to take completion certificated from Noida Authority as even around 1000 residents who are living in the society without registry had purchased stamps before possession.
In addition to this, the other major concerns of the people are lack of parking space, malfunctioning of lists, entry fees for domestic helpers, car cleaners, dry cleaners etc.
As told by one of the residents, if any one raises any issue, the society maintenance persons governed by the builder cuts electricity and water supply from that flat giving fake excuses such as the meter has malfunctioned and can't be corrected within two days.
It was Skytech's arrogance and negligence that compelled residents to come out on roads to raise their voice.
The builder is charging Rs 2.35 per square feet as maintenance charge which is the costliest among societies.