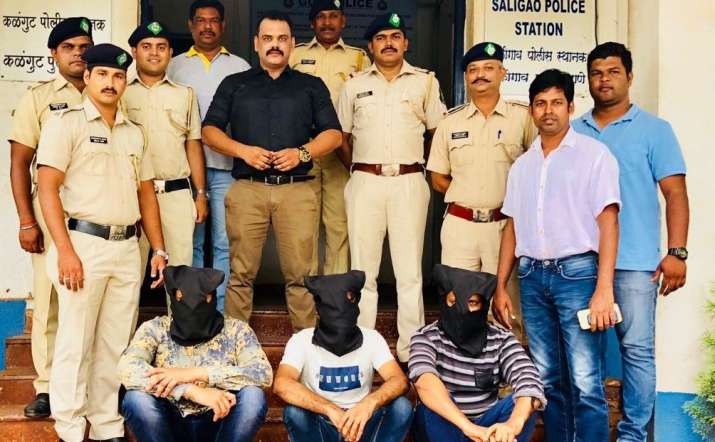 Goa Police today nabbed three persons for their alleged involvement in the violence during the Maratha reservation agitation on July 25 in Navi Mumbai in Maharashtra, the officials said. 
"A First Information Report has been registered against the trio under sections 326, 302, 143, 147, 148 and 149 of the Indian Penal Code at the Koparkhairane Police Station, Navi Mumbai," the Goa police officials said, adding that the request for the arrest of the trio was made by the Navi Mumbai Crime Branch officials.
The Maratha reservation stir in Navi Mumbai had turned violent on July 25 and it also led to the death of a 21-year-old man, Rohan Todkar, who was allegedly assaulted by a mob on that day.
Todkar succumbed to his injuries in state-run JJ Hospital in Mumbai's Byculla area on July 27.  A murder case was registered in this connection at Kopar Khairane police station and the probe was later transferred to Navi Mumbai Crime Branch.  
Bhushan Bhagwan Agaskar, Ashish Kale and Chandrashekar Vishwanath Patil were arrested in the morning today from a village near Calangute beach after Navi Mumbai police intimated their Goa counterparts and also passed on photographs of the accused, a Calangute police official said.  
Calangute police inspector Jivba Dalvi said that the three were wanted by Navi Mumbai police for offences including murder, hurting using dangerous weapons, unlawful assembly and rioting.
"They were arrested in the morning today after we received inputs from Navi Mumbai police that the three, accused of committing offences during the Maratha reservation agitation in Kopar Khairane there, were possibly hiding in Goa," Dalvi informed.
He said that the three had got wind of police action against them and had escaped from the hotel where they were hiding.
"However, one of them was nabbed from Calangute beach and two others were also apprehended a little while later," Dalvi said.
"Navi Mumbai police arrived here this morning and took custody of the three accused and left for Maharashtra," Dalvi added.
(With inputs from PTI, IANS)