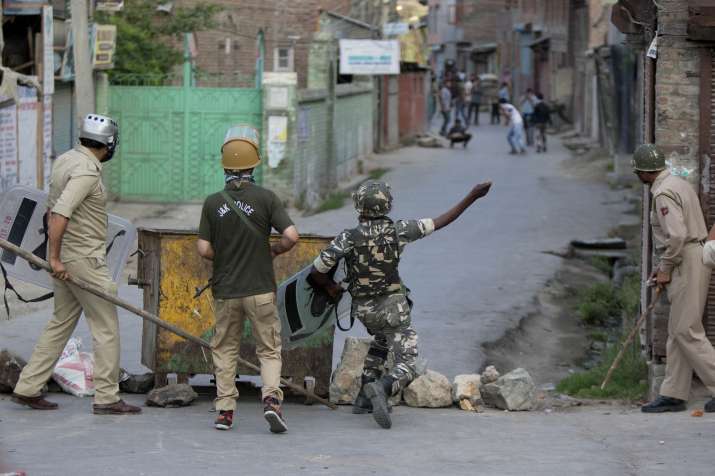 Srinagar: One more civilian was killed on Saturday in a clash with police in Kashmir, taking the death toll to 41, as protests across valley continued for the ninth day. 
While the curfew remained in force, an information blackout has been created in the state with the government cracking down on newspapers and blocking cable TV amid tight security restrictions. However, Cable TV was restored on Saturday evening with exception of Pakistani channels. 
On Saturday, authorities banned newspaper publication in Kashmir for three days, Hindustan Times reported. 
The diktat was issued after police raided media houses and shut down a major printing press in what is being seen as the most sweeping information blackout in the valley rocked by violence.
"The undesirable step was taken to ensure peace," Nayeem Akhtar, a senior minister in the state government said.
"Pakistan has given (a) black day call. There is an attempt to subvert peace, it is an unusual situation so we were forced to take such an undesirable step," Akhtar said. 
Journalists at a meeting of newspaper editors and owners termed "it as an attack on the freedom of press and vowed to fight back at all costs".
Shujaat Bukhari, the editor of the Srinagar-based Rising Kashmir said the ban order was conveyed verbally to editors by a government official.
Newspaper editors issued a statement in which a government official was quoted as saying that the ban "is in view of apprehensions of serious trouble in Kashmir valley in the next three days aimed at subverting peace…strict curfew will be imposed and movement of newspaper staff and distribution of newspapers will not be possible".
Bukhari termed the ban a "press emergency" and said that such steps were not taken during the violent streets protests in 2008 and 2010.
"There was gag then also but today for the first time they have formally asked us not to publish," he added.
"The government doesn't want the public to know the ground situation. We will publish online but with a ban on internet, who will it reach."
Abdur Rasheed, the circulation manager at Kashmir Images, told IANS that a police party came in civvies and raided the daily's printing press on the city's outskirts around 1.30 a.m. on Saturday.
"They asked us to stop the printing machine immediately. And took away some 1,500 printed copies of an Urdu daily (that prints from the Kashmir Images press)," Rasheed said.
The policemen also took away printing plates of the English daily. "The police told us that the gag is for three days and the press should remain closed till then."
Bashir Manzar, Editor of Kashmir Images, said the gag on the media would lead to street rumours getting "terribly dangerous in the current Kashmir situation".
"By gagging the local press, you (government) are blocking your own channels of communication. How will you reach out to the people now?" he asked.
Other newspaper publishers said on their web editions that employees working for their printing presses were also arrested.
"Policemen seized the plates of 'Greater Kashmir' and printed copies of 'Kashmir Uzma' (Urdu daily) and closed down the printing press," according to a report on the website of Greater Kashmir, one of the largest circulated English dailies in the Valley.
Another English daily, Rising Kashmir, had finished printing its edition and was about to be circulated when some policemen raided its distribution site, it said on its web edition.
The Kashmir Times press, which prints many Urdu and English dailies has also been locked down.
Three north Kashmir districts of Baramulla, Bandipora and Kupwara had all communication links cut off from rest of the Valley following widespread violent protests that have left at least three people dead and many others injured. 
All kinds of telephone lines -- landline as well as mobiles -- were snapped in the three districts following death of a youth in security forces firing during clashes in Kupwara district. 
While mobile telephony is suspended across Kashmir for the past eight days, the broadband Internet services have also been downed in these three districts today, he said. 
Cable TV services have also been suspended in the three districts. 
A police spokesperson said "stray and intermittent incidents of stone pelting" protests erupted at many places in north Kashmir. A mob attacked a police post in Hatmulla village of Kupwara district.
Suspected militants in a south Kashmir village shot at and injured two persons, including a relative of an arrested aide of Wani, police sources said.
The Kashmir Valley has seen violent clashes across following killing of Hizbul Mujahideen commander Burhan Wani last week. 
(With inputs from agencies)