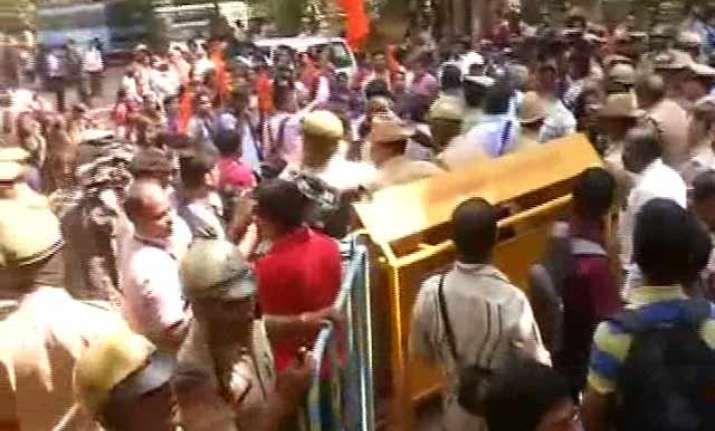 Bengaluru: The personal assistant (PA) of a Karnataka minister and two other people were arrested on Monday for leaking of the question paper for the pre-university course (PUC) chemistry re-exam on March 31, that led to its cancellation and re-scheduling to April 12.
"Our investigation led to the arrest of Oblaraju, PA to medical education minister Sharan Prakash Patil, Rudrappa, a PWD officer, and Manjunath, a teacher in a city private college," state Criminal Investigation Department (CID) deputy inspector-general Sonia Narang told reporters here.
When Patil learnt about Oblaraju's arrest, he told reporters that he was shocked to know it and said "the law would take its own course".
When the second year board exam's science subject paper leaked on March 21, the PU board cancelled it after it was held and ordered its re-exam on March 31 but cancelled it again before it could be held, affecting around 1.74 lakh candidates and triggering angry protests by students and their parents.
The investigation revealed the modus operandi of the accused, who received the paper from an unidentified officer in the PU board and sold it, in turn, to one another before it reached some students in Bengaluru and Tumakuru, about 70 km from here, who circulated it to others across the state on Whatsapp in the early hours of March 31.
"Manjunath, who got the paper first, allegedly sold it to Oblaraju for Rs.10 lakh. The PA, in turn, allegedly sold it to Rudrappa for Rs.14 lakh and he sold it for an unspecified amount to coaching institutes and tutorial colleges, which circulated to its students across the state," CID sources said.
Manjunath is a physical education teacher in the private-run Cambridge College in the city's western suburb of Vijayanagar.
The three accused were also allegedly behind the paper leak the first time on March 21 and investigation into that case led the CID to their detention, questioning and arrest under relevant sections of the Indian Penal Code (IPC).
The paper leak for the second time led to the suspension of 40 officials in the PU board exam division from joint director to class four employee (peon) on the same day (March 31) and transfer of board director Pallavi Akurathi, a 2009 batch IAS officer, to another state department on April 1.
Officials said that as the accused were among the list of suspects in the paper scam, their custodial interrogation will lead to identifying the board official who sold the paper to Manjunath and if other officials were also involved in the racket.