Minutes after Prime Minister Narendra Modi address to the nation following the setback of Vikram lander, a heartbroken ISRO chief K Sivan broke down.
PM Modi was seen lending a sympathetic shoulder to the ISRO chief shortly after leaving the Isro headquarters following his speech. He was also seen exchanging a few words with Sivan as he took time to regain his composure.
In an impassioned pep talk to ISRO scientists after the Vikram lander setback, Prime Minister Narendra Modi today said there are no failures in science and expressed confidence that the space agency will give India many reasons to smile in the future. 
PM Modi said, "We will rise to the occasion and reach even newer heights of success. To our scientists I want to say- India is with you. You are exceptional professionals who have made an incredible contribution to national progress."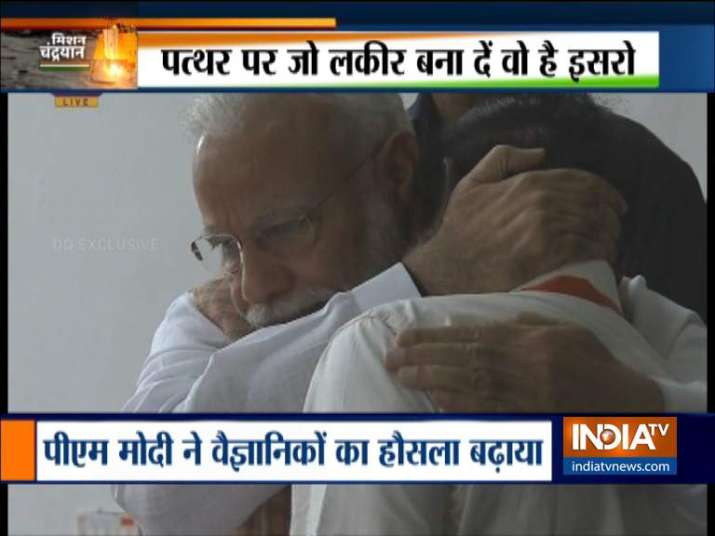 According to an ISRO official, the Chandrayaan orbiter is safe and healthy in the lunar orbit. ISRO Chief Sivan informed the nation that the data is being analysed and the team is looking into the reason and causes of the lost communications. 
ISRO's moon landing operation was the most critical, complex and challenging phase of the whole Chandrayaan-2 mission.
After a successful journey of 48 days from Sriharikota in India to the Moon, the last few minutes proved to be disappointing to ISRO and India for the Chandrayaan-2 mission as the Vikram lander lost communication with the ISRO. The lander when it was about 2.1 kilometres from the surface of the Moon. The lander was scheduled to touchdown at 1:53 am on 7 September near the south polar region of the Moon. 
Chandrayaan-2 satellite began its journey towards the moon leaving the earth's orbit in the dark hours on August 14, after a crucial manoeuvre called Trans Lunar Insertion (TLI) that was carried out by ISRO to place the spacecraft on "Lunar Transfer Trajectory".