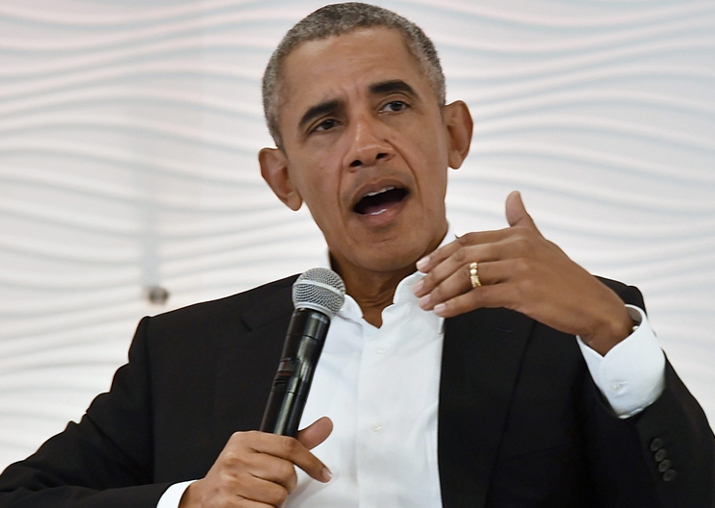 Former US president Barack Obama today said that India needs to "cherish and nurture" its Muslim population, which is integrated and considers itself Indian.
Speaking at an event here, Obama spoke of India's "enormous Muslim population", which he said is successful, integrated and thinks of itself as Indian. 
"That is unfortunately not always the case in some other countries," Barack Obama added. 
"And that is something that needs to be cherished and nurtured, cultivated. It's important to continue reinforcing it," he further said. 
Obama noted that he had emphasised the need for religious tolerance and the right to practice one's own faith during closed door talks with Prime Minister Narendra Modi during his last trip to India in 2015. 
Obama said his comments then were general in nature and he had repeated it in the US as well as in Europe. 
"There's a counter narrative taking place, at all times, but it's particularly pronounced now... You are seeing it in Europe, you are seeing it in the United States and sometimes you see it in India where those old tribal impulses reassert themselves under leaders who try to push back those impulses and under leaders who try to exploit them," Obama said. 
Obama had made similar comments during a public interaction on the last day of his 2015 visit, which had come against the backdrop of controversy over religious conversions. 
Obama, the 44th US president, who held office between 2009 and 2017, further said that it is necessary to make sure that voices which talk about working together are encouraged. 
Earlier in the day, Obama met PM Narendra Modi. This was the first meeting between the two leaders after Obama left the White House in January. 
Obama, the first African American president of the US,  who arrived in Delhi yesterday, later said that the India-US relationship could be a "defining partnership of the 21st century" and that charting the course for the future will also depend on the young people of the two countries. 
At a town hall organised by the Obama Foundation where he addressed young leaders from across India, he said the single most important thing he wanted to focus for the rest of his career was training the next generation of leadership not only in the US but across the world. 
Obama also said that he would continue to fight forces of discrimination and racism. 
"With its largest young population in the world, India holds an important place for me," he said. "Both India and the US are hugely diverse and have many common shared values."
Barack Obama was the first US president to be take part as the chief guest in the Republic Day celebrations. Obama was the first US president to visit India twice during his time in office. He had earlier visited in 2010 when Manmohan Singh was the prime minister.