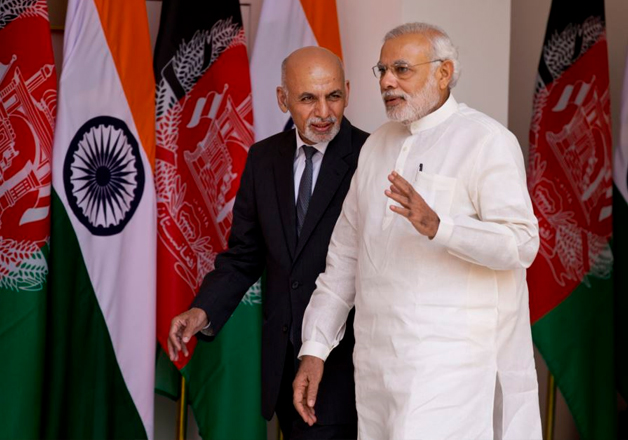 The bilateral ties between India and Afghanistan have traditionally been strong and friendly. New Delhi has always voiced its full support for Kabul at each and every forum to contribute in efforts for restoring peace in the war-torn nation.
In yet another achievement that may result into increase in Pakistan's nervousness, India has managed to find a place in the Moscow conference on Afghanistan, slated to start from today. A total of six nations including India will be taking part in latest regional conference on Afghanistan. The five other nations are: Russia, Iran, Pakistan, China and Afghanistan.
A Ministry of External Affairs delegation led by Joint Secretary Gopal Baglay will represent India at the conference hosted by Russia. The first such conference in December had kept India and Afghanistan out.
The development is important as it comes in the backdrop of NSA Ajit Doval's last month visit to Moscow where he had met Russian security council secretary Nikolai Patrushev, a confidant of President Vladmir Putin. According to reports, it was only after this meeting that India was included, as was Afghanistan. Afghanistan had protested its exclusion the last time.
MEA spokesperson Vikas Swarup had last week said that India looks forward to the valuable opportunity to discuss with other regional countries all aspects of the situation in Afghanistan.
"India is a major development partner of Afghanistan and stands with it in meeting the challenges that friendly country and its people face, most importantly terrorism. India has always believed in close and constructive cooperation for peace, stability, security and development in Afghanistan," Swarup had said.
"To this end, we actively participate in several bilateral and multilateral consultations. In this context, we are happy to accept the invitation of Russia for consultations to be held in Moscow on Afghanistan on February 15. We look forward to the valuable opportunity to discuss with other regional countries all aspects of the situation in Afghanistan," he had added.
Reports also suggest that the issue of India's exclusion from last conference was raised by Foreign Secretary S Jaishankar during his talks with the Russian delegation at the Heart of Asia conference in Amritsar in early December last year.
In that meeting, the three countries that participated, Russia, China and Pakistan, announced their readiness to remove the names of a number of Taliban members from the sanction list in order to help bring peace to Afghanistan.
Meanwhile, Hadi Miran, an international relations analyst, said that Afghanistan, a land-locked nation, can use such meetings for its political interests which can help pave the way for peace talks with the Taliban in future.
"Kabul should get the most out of such meetings and use the meeting for its political interests," he said.