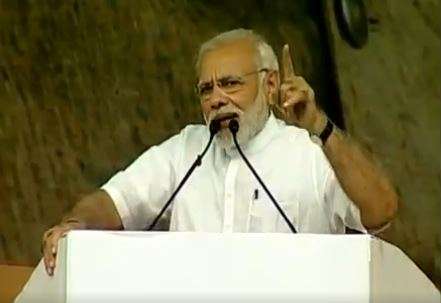 In a veiled dig at the Congress, Prime Minister Narendra Modi on Friday hit out at those accusing him of working for the rich, saying they should answer if moneyed people lived in the 18,000 villages where his government has provided power for the first time since Independence. 
The prime minister said those who had no time to spare for these 18,000 villages living in darkness even after 60 years of Independence are accusing him of working for the wealthy. 
Besides electrification of these villages, the Union government has set a target to provide power connection to four crore families having no electricity.  
PM Modi lays stones for projects worth Rs 27,000 cr in Jharkhand
Prime Minister Narendra Modi laid foundation stones for projects worth over Rs 27,000 crore in Jharkhand, including the Sindri urea plant.
The Sindri urea plant in Dhanbad district of the state had been shut 16 years ago.
"The urea plants of Sindri, Baruni (Bihar) and Gorakhpur in Uttar Pradesh will help in the second agriculture revolution in the eastern India," Modi said addressing the gathering at Sindri.
Modi also laid the foundation stone for a 750-bed All India Institute of Medical Sciences (AIIMS) and an airport in Deoghar district.
"People of eastern India have to go to New Delhi for AIIMS treatment. Now we are opening AIIMS here, so that people can avail the same treatment here," the Prime Minister said.
While laying stone for a gas pipeline project in Ranchi, he said: "After Ranchi, the gas will be supplied to the 70 districts of Bihar, Jharkhand and West Bengal through pipeline."
Modi also laid online the foundation stone for 800mwx5 super thermal power plants in Patratu of Ramgarh district. This is a joint venture between Patratu Thermal Power Plant Station and National Thermal Power Plant. 
In the first phase, three units of 800mw each will be developed at an estimated cost of Rs 18,668 crore. The project is envisaged to be completed by 2021-2022.
(With PTI and IANS inputs)