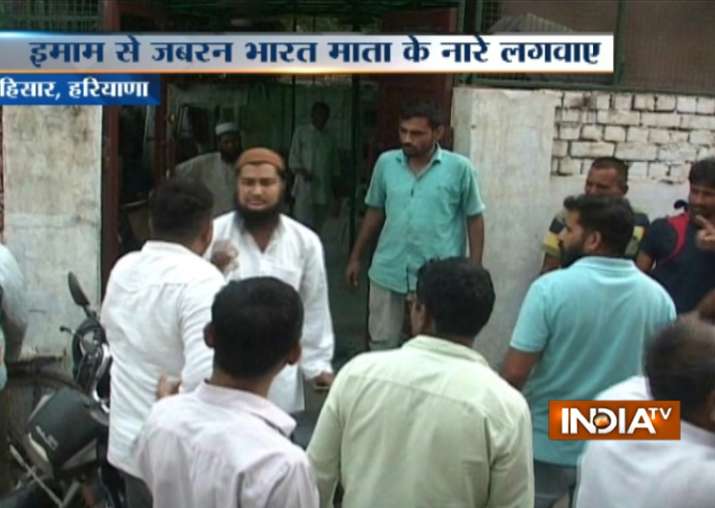 In a shocking piece of news from Haryana's Hisar district, a group of Bajrang Dal activists were caught on camera assaulting an Imam of a mosque here just because he refused to say 'Bharat Mata Ki Jai' and 'Vande Mataram'.
In the video, Bajrang Dal activists can be seen protesting outside a mosque and shouting anti-Muslim slogans. When the Imam refused to stepped out of the mosque, activists dragged him out of the premises, abused him and pressurised him to chant 'Bharat Mata Ki Jai' and 'Vande Mataram'. 
The Imam's attempts to reason with the protestors went unheard as the activists kept pushing him to chant 'Bharat Mata Ki Jai'. Before the Imam could say anything else, the goons slapped him on the face.
The goons further threatened that they would not allow Muslims to live in Haryana. "…ensure they (Muslims) are kicked out. If we find any Muslim living here illegally, we will burn them alive," one of the workers can be seen in the video as saying.
They even branded Muslims as traitors and burnt an effigy outside the mosque to protest against the terror attack in Anantnag targeting Amarnath Yatra pilgrims. 
In the clip, the Imam can be heard saying 'Kashmiri gaddar hai saare desh ke (Kashmiri people are traitors of the country)'.
The victim has been identified as Abid Ali who later filed a police complaint.
The Bajrang Dal activists also demanded that Home Minister Rajnath Singh withdraw the subsidies provided to minorities. "…bullet for us and subsidy for those who are committing atrocities." 
"More than 10,000 Muslims are living illegally in Hisar alone. They all are outsiders, they have no registration… why is this government not taking the matter seriously? Why they are waiting for untoward incidents to happen?"
The incident took place at a time when the entire nation is mourning and condemning the killing of seven Amarnath Yatra pilgrims in Jammu and Kashmir's Anantnag in a cowardly terror attack plotted by LeT.