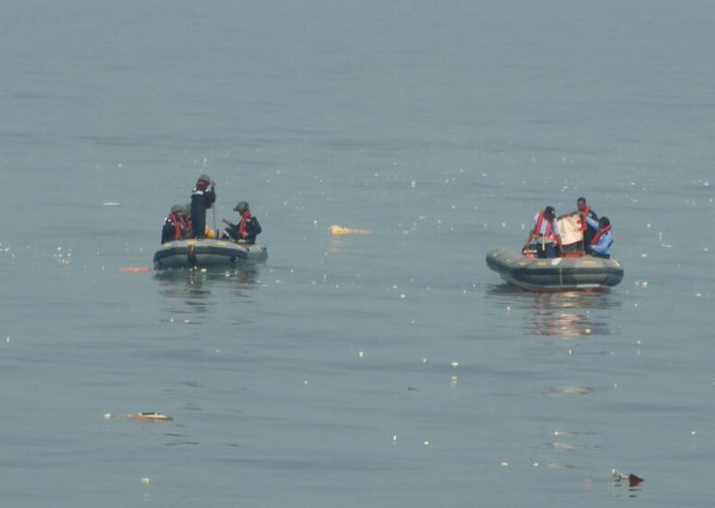 A Pawan Hans helicopter with five ONGC personnel and two pilots on board today crashed off the city coast while heading to an oil rig at Mumbai High.
A senior Coast Guard official said that four bodies have been found and search operation is underway to locate remaining three persons. 
The chopper Dauphin N3 had gone missing after taking off from Juhu aerodrome at 10.30 AM. 
The chopper, bearing registration number VT-PWA, was scheduled to land at the designated oil rig at Mumbai High at 11 am. Five employees of state-owned Oil and Natural Gas Corporation (ONGC) and two pilots were on board the chopper. 
Indian Coast Guard continues Search and Rescue operations. Four bodies have been recovered at sea near debris of #ONGC helicopter. #Mumbai pic.twitter.com/KDzcXiKpzT

— ANI (@ANI) January 13, 2018
The Navy said it had deployed its stealth frigate INS Teg for the search operation while surveillance aircraft P8i was also pressed into service. 
The Coast Guard had also diverted its ships to search the missing chopper. 
A senior Directorate General of Civil Aviation (DGCA) official said that the aircraft accident investigation body AAIB will probe the Pawan Hans chopper crash. 
Wreckage of Pawanhans Helicopter of #ONGC. The helicopter was flying from Juhu #Mumbai to ODA Offshore Development Area when it got lost at sea this morning (Source: Indian Coast Guard) pic.twitter.com/8nbWM8efOM

— ANI (@ANI) January 13, 2018
"Since it is a clear accident, this chopper crash will be probed by the Aircraft Accident Investigation Bureau(AAIB)," the official said. 
He said the DGCA will extend all necessary help to the AAIB in conducting the probe. 
AAIB is the apex body which probes serious incidents and accidents involving aircraft registered in India and comes under the civil aviation ministry. 
The Petroleum Ministry too swung into action rushing the Chairman and Managing Director of ONGC to Mumbai.
"Spoke to Defence Minister Nirmala Sitharaman & requested for help from Coast Guard and other agencies in the search and rescue operations; CMD ONGC has rushed to Mumbai," Union Petroleum and Natural Gas minister, Dharmendra Pradhan tweeted.
Minister of State for Civil Aviation Jayant Sinha expressed deep anguish over the loss of lives. 
"India Coast Guard Ship on receipt of information reached area, located the debris, picked up a body at 1230 hrs," he said on twitter. 
"Search & rescue operations are underway. Aircraft Accident Investigation Bureau will launch thorough inquiry (sic)," he added.