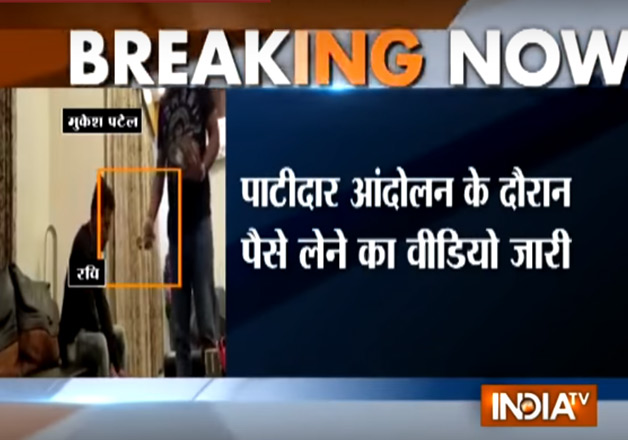 Ahmedabad: Hardik Patel, the young Patidar leader who led a massive reservation stir against the BJP-led Gujarat government seeking quota for the Patel community, has landed in trouble after a footage showed his cousin Ravi Patel purportedly accepting Rs 30 lakh bribe from a prominent Surat builder Mukesh Patel, who is a core member of the Abhivadan Samiti.
The footage, which is said to be a few months old, was aired by local TV channels a day ahead of the businessmen-led Patidar Abhivadan Samaroh Samiti's event to facilitate prominent BJP leaders like party president Amit Shah and Gujarat Chief Minister Vijay Rupani. 
"Hardik talked to me a week before he was released from the jail and asked me to give Rs 30 lakh to his brother Ravi," said Mukesh Patel, who can be seen handing the amount in cash to Hardik's cousin in the video.  
Mukesh further claimed that the money taken in the name of movement was spent by Ravi and Hardik on personal expenses. 
"We have paid cash to Anamat Samiti leaders when they had organised one or two social functions. But this time the money was given to Hardik's brother and it has surely been spent for personal use," Mukesh alleged. 
Hardik Patelk had earlier released a video message ridiculing the felicitation ceremony, even claiming that the organisers have ignored the Patidar leader and former chief minister Keshubhai Patel. 
In the message, he also claimed that Mukesh Patel and Mahesh Sawani (co-organiser) had organised the event to get their business projects cleared from the government.