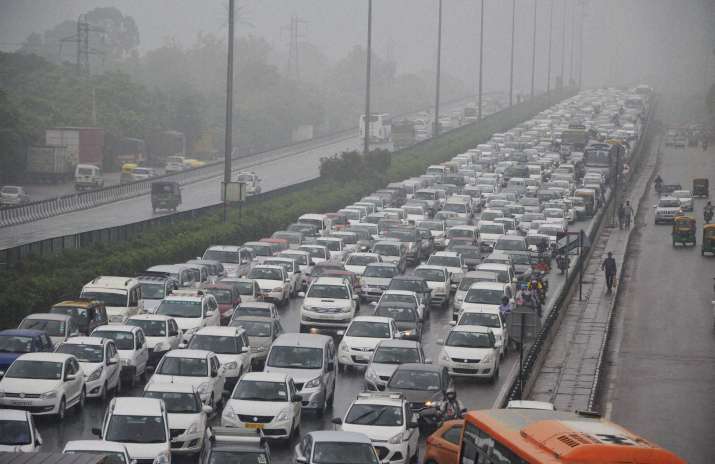 Gurgaon: Facing unprecedented traffic chaos, the Gurgaon Police have imposed prohibitory orders (under Section 144 of the CrPC) around the Hero Honda Chowk to clear the congestion caused due to massive traffic jam.
Thousands of commuters were left stranded on the Gurgaon-Delhi Expressway and national highway 8 on Thursday evening after heavy rain+ .
"Considering the unprecedented rainfall and the flow of huge volume of water due to downward gradient from Delhi towards Gurgaon+ , prohibitory order under section 144 CRPC has been imposed near Hero Honda Chowk in the city," Gurgaon Deputy Commissioner T L Satyaprakash said.
"Civil agencies may requisition all infrastructure equipment at benchmark rates so as to reposition roads, traffic congestions and other necessary actions. For next three days, the flash flood management works shall be undertaken on quotations basis and all the contractors shall coorperate with the civic agencies," he said.
The Haryana government also declared a two-day holiday to schools and the Gurgaon police issued an advisory to avoid travelling, as thousands of commuters remained stuck on National Highway 8 due to flooded roads.
"People coming to Gurgaon from Delhi are advised to stay back today to avoid being stuck in traffic jams due to flooded roads," said Gurgaon Police on Twitter.
"Traffic situation in Gurgaon especially on NH8 and Sohna Road is congested and very slow due to rains and flooding. Avoid if possible", they said.
Meanwhile, Haryana chief minister Manohar Lal Khattar has called an emergency meeting in Chandigarh to tackle the ongoing traffic jam and waterlogging problem.
The Deputy Commissioner directed that wherever the flow of water was obstructed due to encroachment, the concerned engineer or staff may undertake removal of such encroachment on urgent basis with summary information to the concerned owner.
"The traffic management will continue till the end of September i.e. the monsoon season. CEO, Sheetla Mata Mandir Board, shall make payments for all additional home guards even if it is beyond the competency of Chief Administrator considering the task at hand," Satyaprakash said.
"Wherever the co-operation is not received the police may register cases against such delinquent officials till the end of the monsoon on request by civic agencies," he said.
Thousands of office goers and other commuters were stranded in Gurgaon+ as heavy rains led to waterlogging on national highway 8 on Thursday causing huge traffic jams, forcing authorities to shut down schools in Delhi's satellite city while some offices too declared off on Friday.
Union transport minister Nitin Gadkari has ordered national highways authority (NHAI) chief Raghav Chandra to send a team of officials to clear the traffic and submit a report to him.
Different roads leading to Gurgaon including NH-8 and Sohna Road were congested in the morning. The movement of vehicles was very slow due to rains and waterlogging.
Rain in the second half of the day caused waterlogging at many other places such as Pamposh Enclave, under Savitri flyover, Chirag Delhi flyover and Modi Mill flyover.
Agency inputs