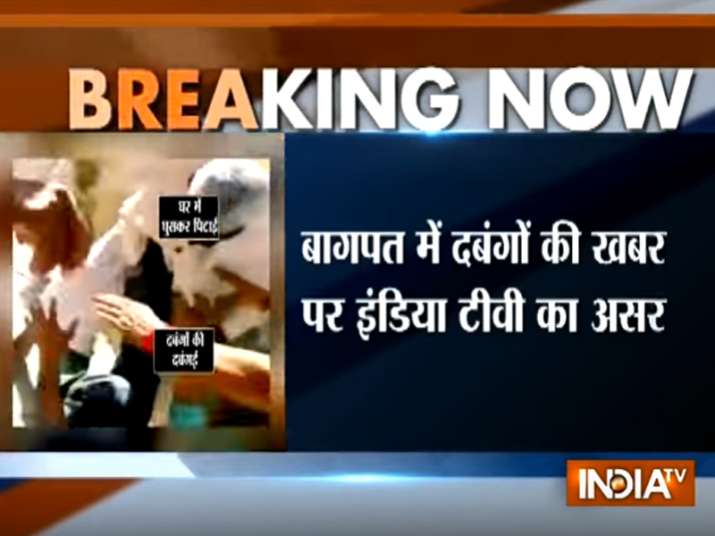 While the Yogi Adityanath government in Uttar Pradesh claims to be leaving no stone unturned to ensure women's safety with its 'anti-Romeo' drive and tightening of law and order machinery, a shocking incident from Baghpat district highlights the extent of the challenge the new government is faced with. 
In a video which went viral on Tuesday, a girl, along with her father, can be seen getting thrashed up by goons. The suspects are believed to be residents of the same area and live in their neighbourhood. 
The girl seen in the video is Sheetal Rathi who is a trainee sub-inspector in CISF, and her sister, who is making the video with her mobile phone is Chitra Rathi, who is an accountant. Both had come home to spend their holidays.  
The incident took place when their father had gone out to bring material for construction of a gate in their house. Meanwhile, village head Rabiri Devi's husband Peetam, along with his two sons, stormed into their house and started misbehaving with the girls. 
When Sheetal opposed them, Peetam's son started hurling abuses and beating her. 
Meanwhile, the girls' father came back and tried to stop them but Peetam started beating him up mercilessly. 
While Chitra was shooting the incident, Peetam tried to snatch her mobile phone but failed. 
If the blatant disregard for law and order that this incident throws up wasn't enough, inaction by the police only made matters worse. 
Initially when the victim family approached the Baalaini police, none of the accused was arrested or even questioned. Moreover, a case was registered by the police only under the charges of "offences against the public tranquillity". 
"They misbehaved with my sister, they tore her cloth. They even tried to snatch the mobile from me and attacked me," the sisters said.
"We want CM to take action against the goons. He had promised security to women," she added.
It took a drive by India TV and some other media outlets to pull the local police out of their slumber. As per fresh information, police swung into action and arrested Manveer and Manish – the two prime accused in the case. 
The victim sisters claimed to have tweeted the video to Chief Minister Yogi Adityanath, but were still awaiting a response from the government that claims to ensure utmost safety for women in the state.