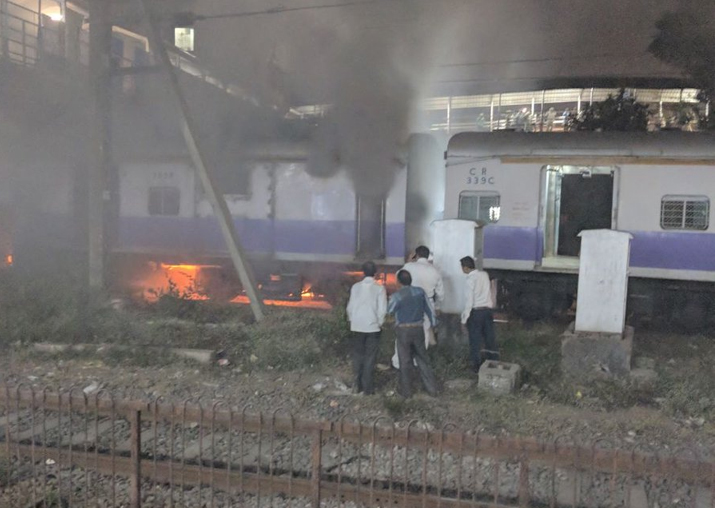 A motor coach of a Thane-bound slow local caught fire near Dadar railway station late this evening.
According to news agency ANI, the incident took place at around 9:20 pm when the local was about to depart from Dadar station which falls on the Central Line of the Mumbai Suburban Railway network.
The Brihanmumbai Municipal Corporation's Disaster Management unit said that the fire had been doused and there were no injuries to any commuter. The blaze was brought under control at 10.40 pm. 
Rail traffic affected after fire broke out inside part of a local train at Dadar Railway Station. The fire has now been doused. #Mumbai pic.twitter.com/9RsJqao9Ji

— ANI (@ANI) February 2, 2018
A CR spokesperson said that the fire emanated underneath one of the coaches and it was possibly a case of brake binding, a technical problem where the brake gets jammed, leading to friction, fire and smoke. 
He added that three trains moving towards the suburbs were affected and they had to be diverted to the fast line between Byculla and Kurla. 
Chief public relations officer of CR, Sunil Udasi said, "It was a rake made by BHEL. There was a minor fire which was immediately brought under control. The coach was empty. The down slow traffic was diverted to down fast line." 
"The train was cleared in 10 minutes and down slow traffic will also be restored on its normal path," Udasi added. 
The incident, however, resulted in chaos at the station. A commuter said, "I was heading for my home in Bhandup. It was around 9.40 pm when my train suddenly changed track from slow line to fast line from Byculla station. It stopped at Parel station, which was packed, and remained there for over 15 minutes. When the train reached Dadar's platform number 4, the area was covered in a thick layer of smoke."