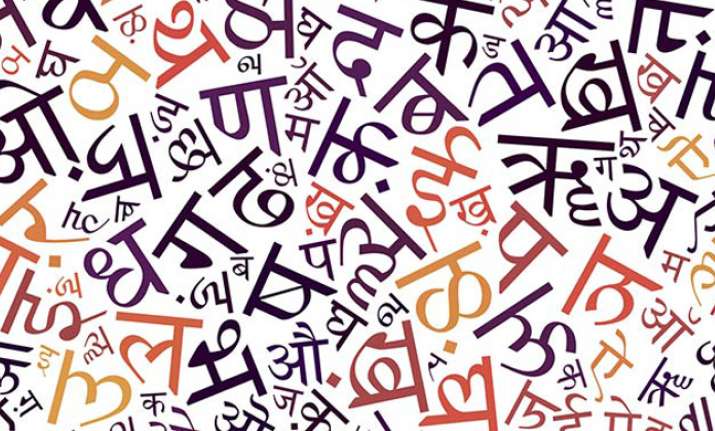 The nation is celebrating Hindi Diwas today. It was on this day in 1949 that the Constituent Assembly of the country adopted Hindi as the official language of the Republic of India.
Under Article 343, Hindi is prescribed as official language of India, English being the other official language. Though it the most popular Indian language, there is no official record of it being a national language.
Hindi remains in the core of Indian psyche but English has made deep inroads in our education system. Besides, in this fast changing world, English has turned itself into a language with global appeal and also conquered most of digital horizon.
However, there is still a mindset that somewhere projects English as synonymous to elitism, reflecting the great Indian divide where people often see native Hindi and regional language speakers with a condescending eye.
But Hindi, with its rich cultural legacy and its treasure trove of literature, is unparallel in its own right. 
Prime Minister Narendra Modi has done his bit to promote Hindi language. Be it his UN address or his speech to US parliament, Modi, like Vajpayee, has spoken in Hindi at the highest global level. The government has also exhorted its bureaucrats to use Hindi for official communication.
Many choose to ignore this fact and may consider English as their personal favourite, especially with the digital world merging global boundaries. However, there is a set of trivia that shows the influence that Hindi wields in Indian discourse and the way of life for Indians. 
Here are 10 factors that show just how much the Hindi language matters to India
1) Nearly 425 million people speak Hindi as a first language and around 120 million as a second language. 
2) Hindi is also spoken in many countries outside India, such as in Mauritius, Fiji, Suriname, Guyana, Trinidad & Tobago and Nepal.
3) Even in the digital world, the demand for Hindi is five times more than that of English. 
4) Around 93 per cent of Indian viewers watch Youtube in Hindi
5) There are over 500 institutions around the globe where Hindi is being taught.
6) On an average, an Indian smartphone user has around 32 Apps of which 8-9 are in Hindi.
7) The consumption rate of Hindi content in India has grown by 94 per cent while English content is growing steadily at 19 per cent.
8) Around 21 per cent Indians who want to browse the internet using Hindi.
9) There are over 15 search engines in the Hindi language.
10) Hindi is the fourth most spoken language after Chinese, Spanish and English.