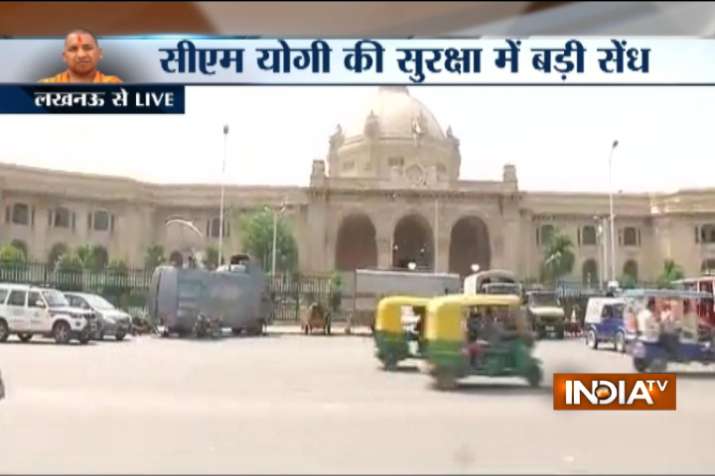 In a major security breach in UP Assembly, a highly explosive powder Pentaerythritol tetranitrate (PETN) was found near the seat of the Leader of the Opposition Ram Govind Choudhry on July 12.
Sharing the information in the state Assembly, Chief Minister Yogi Adityanath today said that the powder was found wrapped in a paper close to the seat of Choudhry.
Since the dog squad failed to detect the powder, it was sent for FSL examination.
The FSL test revealed that the powder was a dangerous plastic explosive PETN (Pentaerythritol tetranitrate). 
An emergency meeting was called to discuss the recovery of the explosive on July 12. 
Terming it as a conspiracy, the Chief Minister said in the Assembly that the NIA should probe the matter.
Yogi Adityanath further said that everybody  needs to be cautious in matters related to security.
He also added that police verification needs to be done for workers in the state Assembly.
"PETN explosive was found,action must be taken against those involved. NIA must investigate this," Yogi Adityanath said in the Assembly.
"Security guidelines must be issued and everyone must follow them. Strong security system must be established as this could be a terror conspiracy," he added.
Stressing that there should be no compromise on security, the chief minister said joint efforts were needed to ensure this.
"It is a dangerous tendency that the security of the assembly has been breached when the House is in session," the Chief Minister said. 
"So far the government was worried about security outside the assembly, now this has become a more serious matter," he added.
The Chief Minister also requested Speaker Hriday Narain Dixit to ensure police verification of the assembly staff given the fact that security of over 500 MLAs and MLCs was at stake.
PETN, is a major ingredient of Semtex and belongs to the same chemical family as nitroglycerin. It is one of the most powerful explosives made nowadays.
PETN is a favourite among terrorists because its colourless crystals are hard to detect in a sealed container.