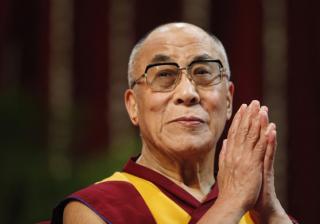 The banned United Liberation Front of Asom-Independent (ULFA-I) has warned Tibetan spiritual leader the Dalai Lama against making any personal or public comments against China when he visits Assam next month.
ULFA-I is led by Paresh Barua who is believed to be hiding in China and had sought Beijing's help to attain Assam's "sovereignty" around two years back.
In an open letter to the Dalai Lama, ULFA-I chairman Abhijeet Asom put a special condition for the Dalai lama for his Assam visit.
"If you want to visit Assam, we have a special condition. You will not make any personal or public comments against China from Assam's soil," Hindustan Times quoted Abhijeet Asom as saying in his open letter.
He also warned the Dalai Lama against acting as the spokesperson of India during his Assam visit.
"China and Assam are friendly neighbours who share long-standing linguistic and cultural ties. We will not tolerate it if you act as a spokesperson for Indian sentiments from Assam's soil," he added.
The Dalai Lama will begin his visit to the north-eastern part of India from April 1.
He will arrive in Assam on April 1, and deliver a lecture in Guwahati. On April 2, the Dalai Lama will participate in the Assam government-organised Namami Brahmaputra festival.
On April 3, the Dalai Lama will deliver another lecture at Dibrugarh University after which he will proceed to Tawang monastery in Arunachal Pradesh.
The Dalai Lama will end his trip to North-East at Itanagar on April 12.
China has objected to the proposed visit of the Dalai Lama to Tawang monastery  which it claims to be part of its territory.
China had warned that India was risking "serious damage" to the ties between the two nations by permitting the Dalai Lama to visit Arunachal Pradesh.
China has always accused the Dalai Lama, the Nobel laureate who is also the political leader of the Tibetan diaspora in India, to be a separatist.
India, however, gave a green signal to the Dalai Lama's visit ignoring Chinese threats and objections.
ULFA-I has also slammed the Dalai Lama for visiting Tawang in Arunachal Pradesh.
"Your unwise decision to go to Tawang despite China's objection is a cause of concern to us. It could lead to deterioration in ties, and if China's limit of tolerance is breached, even result in a war-like situation," ULFA-I Chairman Abhijeet Asom wrote in his open letter to Dalai Lama.
"India has kept her nuclear arsenal ready on Assam's soil to use against your country. In neutralising Indian military power, China is also likely to unleash an immense counter offensive which will be a disaster for Assam. Moreover, your beloved Tibet also likely to suffer heavily from your host's action," he added.