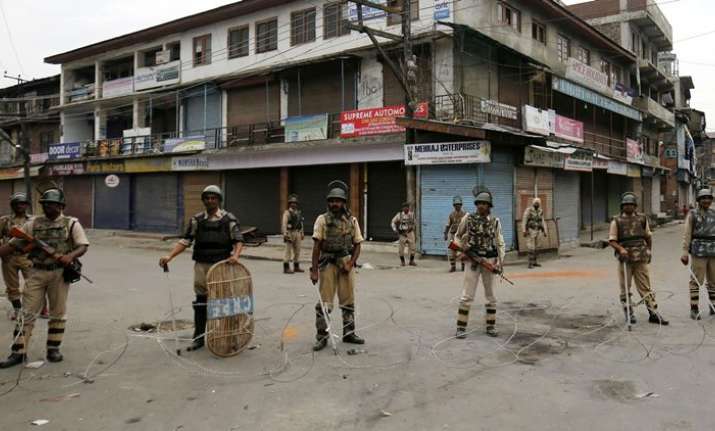 The authorities imposed curfew-like restrictions in the old city areas of Srinagar and some other parts of the Kashmir Valley on Tuesday as the toll in ongoing unrest rose to 75, officials said.
Musaib Majeed, 17, who was injured in clashes with the security forces in Wadoora area of Kashmir's Sopore town on September 4, succumbed to his injuries in a Srinagar hospital during the night.The teenager had a head injury and was put on ventilator support after surgery.
The teenager belonged to Sonarwani village of Kashmir's Kupwara district.
The authorities imposed curfew-like restrictions in six police station areas of Srinagar city including Nowhatta, Khanyar, Safa Kadal, M.R. Gunj, Rainawari and Maisuma on Tuesday.
Although police said there was no curfew anywhere in the Valley on Tuesday, no pedestrian or traffic was allowed by the security forces in areas where restrictions were imposed.
Following the death of another civilian during the night who belonged to Kupwara district, all mobile phone operations in the district have been suspended.
The failure of the all-party delegation headed by Home Minister Rajnath Singh in cutting any ice with the separatists who are spearheading the nearly two-month long protest shutdown, has come as a big setback to peace efforts here.
All educational institutions, main markets, public transport and other businesses remained closed for the 59th consecutive day on Tuesday.
Banks, government offices and post offices have been functioning for the last 59 days with skeletal staff.
Violent street protests erupted in the Valley after a militant leader was killed in a gun fight with security forces on July 8 in southern Kashmir. Stone-throwing mobs have clashed with security forces, causing injuries on both sides.
IANS inputs