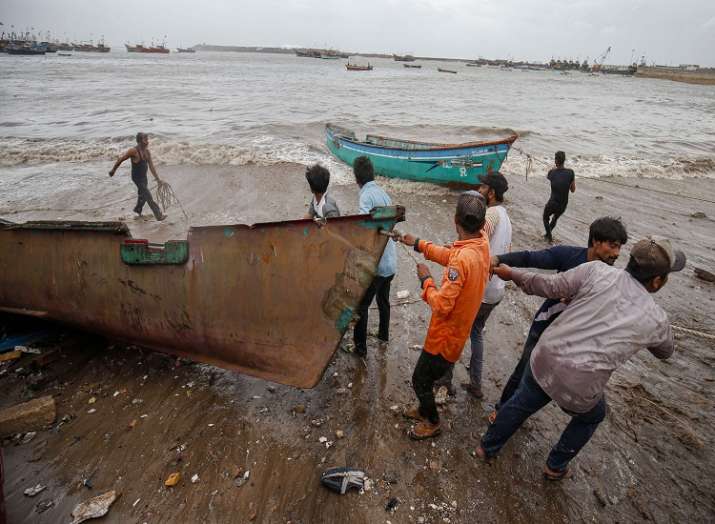 Cyclone Vayu did not make landfall on the Gujarat coast on Thursday as it was expected and passed by the Saurashtra region later in the day.
It is likely to move north-northwest and then north-westwards "skirting the Saurashtra coast".
Skymet Weather stated that the 'Very Severe Cyclone' may weaken into a Category 1 Cyclonic Storm from Category 2, though the wind speed will be 135 km per hour to 145 km per hour gusting up to 175 km per hour.
Gujarat has, meanwhile, already evacuated nearly three lakh people and the Diu Union Territory, that touches the Saurashtra coast, have moved over 10,000 people to safety.
HERE ARE THE LIVE AND LATEST UPDATES ON CYCLONE VAYU:
07:55 pm: Schools of 10 districts will stay closed tomorrow due to Cyclone Vayu, says Vijay Rupani
Gujarat Chief Minister Vijay Rupani: According to IMD bulletin #CycloneVayu which was going to hit Gujarat has moved towards Oman. But still for 24 hrs administration will be on high alert, schools of 10 districts will stay closed tomorrow. pic.twitter.com/9qVyKVDcLW

— ANI (@ANI) June 13, 2019
07:50 pm: Cyclone Vayu moves towards Oman
07:45 pm: Defence Minister Rajnath Singh reviews preparations of  Indian Navy, Coast Guard. He was briefed about the ability & readiness of various assets of Headquarters Western Naval Command (HQWNC) that have been made ready to be deployed to the affected areas in case of requirement.
07:15 pm: Houses collapse due to cyclone Vayu
07:00 pm: Portion of Porbandar's Bhuteshwar Mahadev temple collapses due to heavy winds
150 year old #Bhuteshwar #Mahadev Temple damaged late night due to heavy #seawaves in Porbandar.

Now Temple is locked and evacuated.@indiatvnews pic.twitter.com/PG4GusbJex

— Manish Prasad (@manishindiatv) June 13, 2019
06:15 pm: Highest wind recorded till now is 114kmph at Dhamrej in Sutrapada Taluka.
05:30 pm: Gujarat BJP chief Jitu Vaghani visits vulnerable areas in Gir Somnath
"વાયુ" વાવાઝોડાની તીવ્રતા અને પવનની ગતિ ધ્યાનમાં રાખીને ગીર સોમનાથ જિલ્લાના સુત્રાપાડાના સંભવિત અસરગ્રસ્ત વિસ્તારોની જાતમાહિતી મેળવવા પ્રત્યક્ષ મૂલાકાત લઈ તંત્ર વાહકોની સજ્જતા તેમજ લોકોને ઊંચાઈવાળા સલામત સ્થળે સ્થળાંતર સહિતની કામગીરીની સમીક્ષા કરી#VayuCyclone #VayuCycloneGujarat pic.twitter.com/qiQ6J0dHau

— Jitu Vaghani (@jitu_vaghani) June 13, 2019
04:35 pm: Around 35 small boats parked at Porbandar coast washed away in the sea due to the wind and high tides.
03:40 pm: Heavy spells of rainfall continues over coastal areas and is likely to continue during the next 3 hours, says IMD.
03:39 pm: Western Railway: Nine more trains canceled and another four short terminated with partial cancellation as a precautionary measure in view of the Cyclone Vayu.
03:30 pm: NDRF rescued a pregnant woman requiring pre-term delivery from Shiyalbet village, where boats are the only mode of transportation & brought her to a hospital in Jafarabad. The woman successfully delivered a baby boy, condition of both the child and mother are stable.
02:59 pm | Cyclone Vayu to skirt Saurashtra coast, says IMD
Cyclone VAYU located near 20.5N/69.3E at 1130 IST is 120 km Southwest of Veraval & 130 km south of Porbandar. To move north-northwestwards & skirt the Saurashtra Coast.

— India Meteorological Department (@Indiametdept) June 13, 2019
02:29 pm | PM Modi assures support to Gujarat CM Vijay Rupani
PM Shri @narendramodi held telephonic talk with Gujarat CM Shri @vijayrupanibjp on cyclone preparedness immediately after reaching Bishkek and assured all assistance and support from Central Govt to mitigate the effects of #CycloneVayu

— CMO Gujarat (@CMOGuj) June 13, 2019
02:12 pm | A view of the heavy winds in Porbandar, Gujarat
Heavy Winds at #Porbandar. #GujratdefeatedVayu@indiatvnews pic.twitter.com/cnNEw2tscj

— Manish Prasad (@manishindiatv) June 13, 2019
1:03 pm | Ministry of Earth Science issues Orange Message for Gujarat coast
Ministry of Earth Science said that Cyclone Vayu is over Northwest and East central Arabian Sea. 
The Ministry has issued an Orange Message for the coast of Gujarat
Ministry of Earth Science — Very Severe Cyclonic Storm #VAYU over Northeast & adjoining East central Arabian Sea: cyclone warning for Gujarat coast: orange message.

— ANI (@ANI) June 13, 2019
12:38 pm | Worst may have been averted, but authorities leaving nothing to chance
Even after it has become clear that Cyclone Vayu will not make landfall, authorities have warned that the cyclone system will still have an adverse effect on the weather in coastal districts of Gujarat.
Airports in these regions have already been asked by the government to closely monitor the situation. It has been reported that Diu, Bhavnagar and Porbandar airports have been experiencing strong winds gusting upto 60 kmph. The officials have been told to take note of meteorological data.
12:14 pm | Prayers and daily rituals continue in Somnath temple despite Cyclone Vayu threat
Daily prayers and rituals are being carried out in Somnath temple in Veraval, Gujarat. The threat of Cyclone Vayu has not dampened the spirit of devotees.
10:42 am | Cyclone Vayu has re-curved eastwards, say US Navy projections
Projections made by the US Navy suggest that Cyclone Vayu has re-curved eastwards. More details are awaited to accurately know whether this has changed situation vis-a-vis the cyclone making a landfall.
10:03 am | Authorities, security forces on alert without any laxity
Authorities, agencies and security forces are on alert even when it is clear that Cyclone Vayu will not make landfall. 
While SevereCyclonicStorm Vayu lay centered 130 kms South West of Veraval ICG team monitors situation along Gujarat Coast and Sensitising Coastal Population .@indiatvnews @IndiaCoastGuard pic.twitter.com/BrCB3OeEdH

— Manish Prasad (@manishindiatv) June 13, 2019
9:31 am | Coastal districts to be affected due to Cyclone Vayu
Although Gujarat has been largely spared from the full fury of Cyclone Vayu, the 'very severe cycloninc storm' will likely have an effect on coastal districts. Storm surge will be observed and conditions at sea will be turbulent.
9:05 am | Here are details about the latest comment from IMD
Manorama Mohanty, a scientist from IMD Ahmedabad said that Cyclone Vayu will not hit Gujarat.
Click here to read the story.
8:48 am | Cyclone Vayu will not hit Gujarat
Manorama Mohanty, scientist at India Meteorological Department (IMD), Ahmedabad: #CycloneVayu won't hit Gujarat. It will pass nearby from Veraval, Porbandar, Dwarka. Its effect will be seen on the coastal regions as there will be heavy wind speed and heavy rain as well pic.twitter.com/tt57jsbjWt

— ANI (@ANI) June 13, 2019
8:05 AM | Beaches in Konkan closed for public
In view of Cyclone Vayu, beaches in Konkan in Maharashtra have been closed for public
Maharashtra: In view of #CycloneVayu in Arabian Sea coupled with high tide on June 12 & 13, all beaches in Kokan region have been shut off to the public. #Visuals from Bandra beach in Mumbai pic.twitter.com/fRvT2SbZGC

— ANI (@ANI) June 13, 2019
7:15 am | IMD strongly warns against venturing into the sea for fishing
India Meteorological Department in its latest weather bulletin has advised 'total suspension' of fishing operations on the coast of Gujarat. Sea conditions are increasingly getting turbulent as Cyclone Vayu is approaching the coast.
6:52 am: Here is how the Indian Navy is preparing for Cyclone Vayu
Indian armed forces have always been there to help citizens in times of need. As Cyclone Vayu inches towards the coast of Gujarat, the Indian Navy has deployed its ships in the Arabian Sea to help in the rescue effort. Click on the video below to know more.
6:47 am: Trains from Mumbai to Ahmedabad late by more than 5 hours
The approach of Cyclone Vayu has affected train services. Trains running between Mumbai and Ahmedabad are now late by more than five hours.
6:30 am: Waves batter Porbandar in Gujarat as Cyclone Vayu inches closer to the coast
Large scale preventive measures are being taken in Gujarat to minimise the impact of Cyclone Vayu as it hits the coast. The cylone is expected to make landfall in the afternoon today.
As Cyclone Vayu approaches the coast, conditions over the sea have become rough.
#WATCH Gujarat: Visuals from Chowpatty beach in Porbandar as the sea turns violent. #CycloneVayu is very likely to cross Gujarat coast between Porbandar and Mahuva as a very severe cyclonic storm, today. pic.twitter.com/NnCornrMqe

— ANI (@ANI) June 13, 2019
04:36 am | Cyclone Vayu is expected to make landfall sometime in the afternoon, says Indian Meteorological Department
02:37 am | Nasa satelite image of cyclone Vayu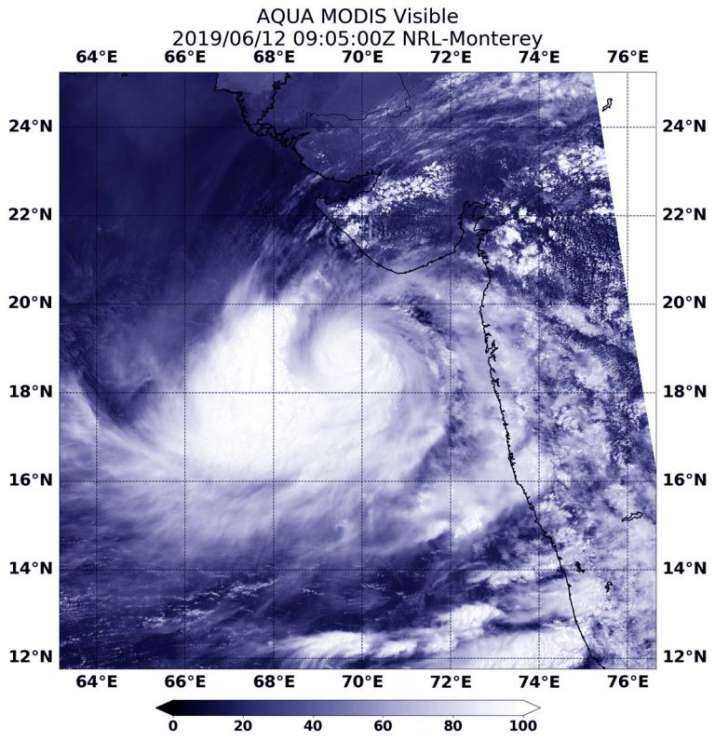 02:31 am | Western railway cancels more trains
Kindly note! Some more trains cancelled, partially cancelled/short terminated in view of warnings for #VayuCycloneGujarat. pic.twitter.com/6IDEAlxpMA

— Western Railway (@WesternRly) June 12, 2019
12:52 | Cyclone Vayu Update: Flight operations suspended at 5 major Gujarat airports
The Airports Authority of India has said that flight operations will remain suspended at five airports in Gujarat for 24 hours from  midnight Wednesday in order to minimise the damage to airport infrastructure and to avoid inconvenience to passengers due to Cyclone  Vayu. Flight operations will remain suspended in Porbandar, Diu, Bhavnagar, Keshod and Kandla airports, the Airports Authority of  India (AAI) said. Directors of AAI's Bhuj and Jamnagar airports have been asked to write to the Indian Air Force to suspend  operations of civil flights from these two airports also. 
12:45 | Cyclone Vayu Update: Control room helplines for the 10 districts likely to get affected
| | |
| --- | --- |
| District | Control Room Helpline Number |
| Dwarka | 02833 - 232125 |
| Jamnagar | 0288 - 2553404 |
| Porbandar | 0286 - 2220800 |
| Dahod | 02673 - 239277 |
| Navsari | +91 2637 259 401 |
| Panchmahal | +91 2672 242 536 |
| Chhota udaipur | +91 2669 233 021 |
| Kutch  | 02832 - 250080 |
| Rajkot | 0281 - 2471573 |
| Aravalli | +91 2774 250 221 |
12:41 | 
Get #OneTouchConnect w/ #DistrictAdministration officers of #Rajkot district.
Folks can take max benefits of #socialmedia presence of revenueOfficers & r open for d suggestions n queries resolutions.

Through eGovernance trying bringing #GovernmentMachineries at ur #FingerTip. pic.twitter.com/OjP8WZkZjK

— Collector Rajkot (@CollectorRjt) January 29, 2018
12:28 | Cyclone Vayu Update: Details on evacuation from areas expected to get affected
A total of 2,02,014 people have been evacuated till 6 pm from 10 districts of Gujarat.
A total of 2,02,014 people have been evacuated till 6 pm from 10 districts of Gujarat. #CycloneVayu is very likely to cross Gujarat coast between Porbandar and Mahuva as a very severe cyclonic storm tomorrow morning. pic.twitter.com/jDEwSldn2A

— ANI (@ANI) June 12, 2019
Ahead of Cyclone Vayu in Gujarat, the Western Railway has decided to fully cancel operation of 15 mainline trains, while 16 other mainline trains will be short terminated with partial cancellation as a precautionary measure.
12:06 | Cyclone Vayu Update: 52 NDRF teams pre-positioned for rescue, relief
NDRF has pre-positioned 52 teams, comprising around 45 rescuers each, for rescue and relief operations. The teams are equipped with  boats, tree-cutters, telecom equipment. The Indian Coast Guard, Navy, Army and the Air Force units have also been put on standby  while aircraft and helicopters are carrying out aerial surveillance. 10 columns of the Indian Army have been Army have been kept on  standy. Warships and aircraft of the Indian Navy have been kept on standby as well. 
12:04 | Cyclone Vayu Update: ONGC puts western offshore installations on high alert
State-owned Oil and Natural Gas Corp (ONGC) has put its installations in the western offshore on high alert and restricted helicopter  sorties. Two emergency control rooms have been set up in Mumbai and Hazira in Gujarat to keep a close watch on the situation as it  develops. Helicopters and a multi-support vessel (MSV) have been kept on standby for any rescue and relief operation that may be  warranted post Cyclone Vayu hits landfall.
Follow Cyclone Vayu Live Updates in Hindi: खतरा हुआ कम, गुजरात के तटीय इलाकों को छू कर निकल जाएगा चक्रवात वायु