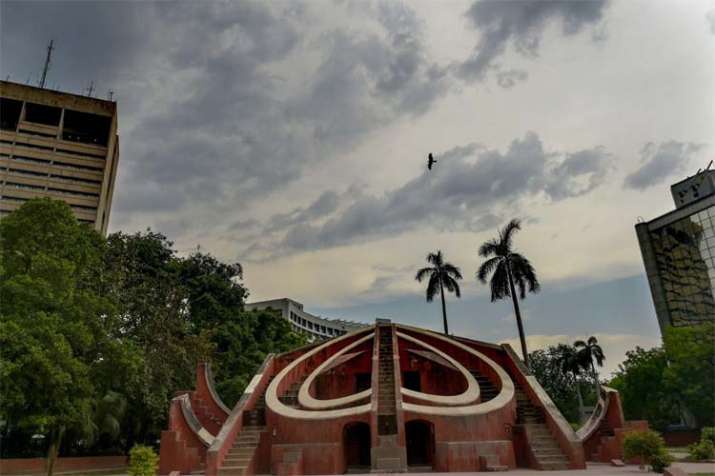 Under attack for issuing an alert for a thunderstorm that triggered widespread panic among people, especially in Delhi, the Met department today said the wind speed observed was well within the range of what it had forecast.
In a statement, the India Meteorological Department (IMD) said thunderstorm was observed at a few places over Himachal Pradesh, at isolated places over Jammu and Kashmir, Punjab, west Uttar Pradesh, Uttarakhand, Haryana, Chandigarh, Delhi and Rajasthan.
Hailstorm was also observed at isolated places over Himachal Pradesh and Uttarakhand, it added.
On Monday, the IMD had issued an amber coloured alert for Jammu and Kashmir, Uttarakhand, Himachal Pradesh, Haryana, Delhi and west Uttar Pradesh with a forecast for Tuesday.
There are four types colour codes signifying the level of caution: green (which means no actions), yellow (situation to be watched) amber (government agencies be prepared for severe weather), red (action needed by the agencies).
Several parts of these states could witness thunderstorm, squall with winds gusting up to 50-70 kilometers per hour, it had said.
With memories of May 2 dust storm - which killed more than 120 people in north India - fresh in their minds, the forecast triggered panic among the people. The Delhi government announced closure of schools anticipating thunderstorm and dust storm.
In its circular issued on Monday evening to shut evening schools, the directorate of education said that winds with a speed of 50-60 kmph may blow between 3 PM and 7 PM in Delhi which is expected to peak around 5.30 PM.
A Delhi government official said the decisions were taken as precautionary measures based on the Met department's warning about bad weather.
However, there was hardly any severe weather condition. There was a dust storm but that lasted barely for a few minutes.
"The forecast wind speed was 50 kmph. Hence the observed wind was well within the forecast range," the statement said.
The IMD Delhi's Safdarjung observatory recorded 32 kmph wind speed while its Palam observatory recorded wind speed of 50 kmph. There was also scant rainfall in some parts of Delhi, an official at the Safdurjung laboratory said.
"We had predicted a moderate intensity thunderstorm and wind speed of 50-70 kilometers per hours," said Mritunjay Mohapatra, Additional Director General of the IMD.
Jatin Singh, the CEO of Skymet, a private weather forecasting agency, said there have been two issues related to the IMD on thunderstorms. "The IMD is not able to distinguish between severities of the May 2 incident and a moderate thunderstorm," Singh said.
On April 30, the IMD had issued a severe weather warning alert but that did not include UP and Rajasthan. Also, the Jaipur doppler radar that could have helped in better forecast of thunderstorm was not functioning.
Meanwhile, mild tremors were felt in Delhi-NCR, Jammu and Kashmir and many other parts of north India on Wednesday afternoon. 
Tremors were also felt in Rajasthan, Himachal Pradesh, Punjab, Haryana and other northern states of India.
(With PTI inputs)