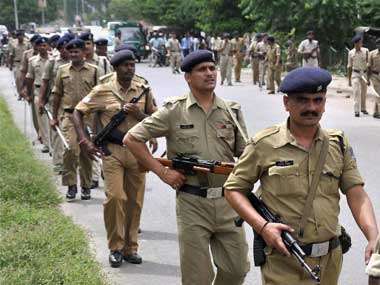 Communal tension has gripped at least six districts of Bihar following violent clashes during the immersion of Durga idols and Tazia processions. 
According to Bihar police, at least eight people, including police officers, were injured in these incidents.
The state authorities have imposed section 144 of CrPC in Gopalganj, Bhojpur, Madhubani, East Champaran, Madhepura and Kishanganj districts.
"In Gopalganj, communal tension entered second day on Saturday. The administration has imposed section 144 CrPC and temporarily banned internet services," a district official said.
The police arrested around 54 persons involved in anti-social activities from both communities from the affected districts.
Sensing trouble, additional security forces were deployed in sensitive areas and top police officials camped and supervised the localities, an official said.
According to reports, tension started on Friday evening when some persons pelted stones and fired at an immersion procession in Gopalganj town. 
At least 10 vehicles, including five motorcycles and two SUVs, were torched and several shops were attacked by the violent mob.
Gopalganj District Magistrate Rahul Kumar said: "The situation is under control but tense. We are alert and keeping a close watch."
In Bhojpur's Piro city the communal tension had started early and entered its fourth consecutive day on Saturday. 
(With IANS inputs)