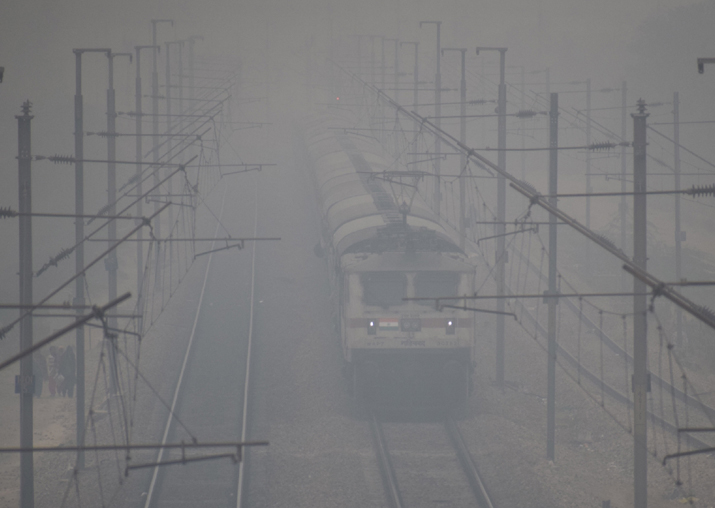 The entire north India is reeling under intense cold conditions from last few days. The prevailing conditions have crippled the normal life as several trains are running late or cancelled. Flight operations at different airports in the northern India have also been affected. The governments in different states have ordered to suspend academic activities in all public and private schools.
Delhi 
In Delhi, the minimum temperature recorded at 6.8 degrees Celsius on Wednesday, the season's average. At 8:30 am, visibility stood at 800 metres and humidity was recorded at 87 per cent.
The Railways cancelled 22 trains while 49 were delayed and three rescheduled due to fog in several parts of northern India. 
The weather department said that maximum temperature on Wednesday was likely to be around 22 degrees Celsius.
So far, 44 deaths of homeless have been reported due to cold in the national capital.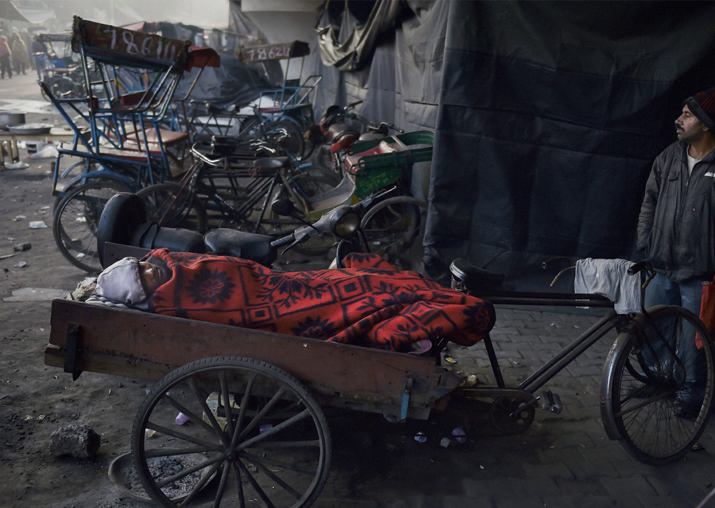 On Tuesday, the maximum temperature settled at 21.6 degrees Celsius, two notches above the season's average while the minimum temperature was recorded at 4.2 degrees Celsius, three notches below the season's average.
Uttar Pradesh
Despite being sunny, a cold wave continued in most parts of Uttar Pradesh. More than 40 persons were reported dead in the state in the last 24 hours, taking the toll to 143 so far. Deaths have also been reported from Kanpur, Fatehpur, Kannauj, Pilibhit, Moradabad, Sambhal, Amroha, Rampur, Hamirpur, Azamgarh, Ghazipur and Ballia. 
Three persons have been killed since Tuesday in road accidents due to fog. 
Early morning fog disrupted normal life in Lucknow and neighbouring areas. A dozen trains were cancelled due to poor visibility which also lead to delays. 
Winter vacations of schools in the state capital have been extended by one more day on orders of the District Magistrate. Despite government's orders, the private school had not complied, prompting an inquiry into the matter.
Government officials said that they were providing warm blankets, clothing, lighting up bonfires and establishing night shelters. These arrangements, however, were falling short due to the unabated cold wave in the state.
The Regional Met Office has forecast cold wave conditions would continue for some more days. It was likely to become better only after Monday.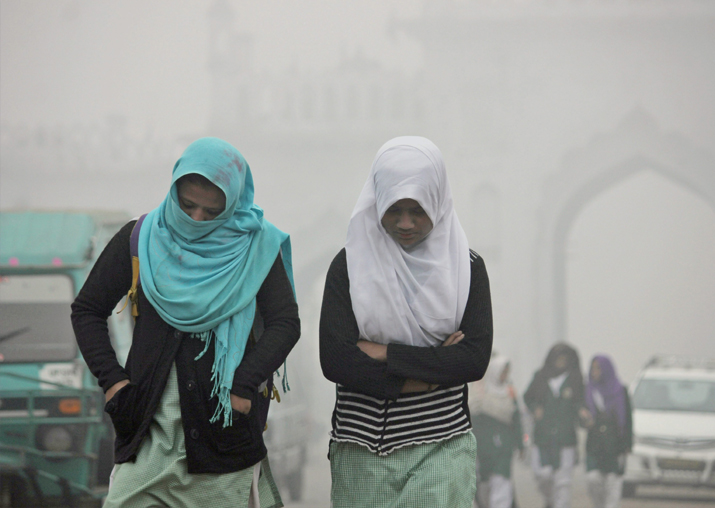 Meerut was the coldest in the state at 2.9 degrees Celsius. Lucknow recorded a temperature of 4.8. The Met said the intense cold wave was due to a western disturbance.
Bihar
With intense cold conditions continuing across Bihar, academic activities in all public and private schools have been badly affected. Patna District Magistrate Kumar Ravi has extended suspension of classes up to standard 8 in all schools till January 13. Apart from Patna, district authorities in Purnea, Gaya, Muzaffarpur, Bhojpur, Darbhanga and Bhagalpur, among others, have also suspended classes till January 13.
A met official said a major part of Bihar was in the grip of cold and the condition will continue till the next 48 hours. 
"Most of north-west and north central parts of Bihar are facing a cold spell due to cold winds coming from the snow-laden Himalayan region. There is little chance of respite from cold conditions in the coming two days," the official said.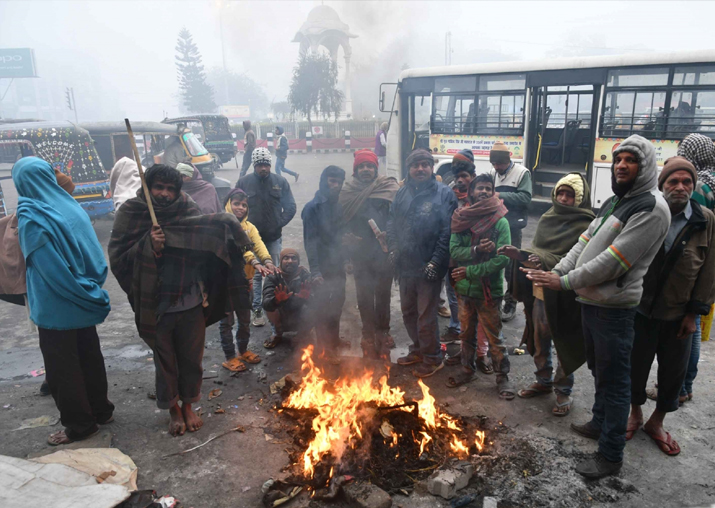 This year, Purnea recorded a minimum temperature of 1.2 degrees Celsius on last Monday, Gaya recorded 2.4 degrees last week and Patna recorded 4.7 degrees on Friday. Bhagalpur recorded 3 degrees Celsius on Monday.
Dense fog has disrupted air and rail services with several flights being delayed and long-distance trains running late.
J&K
Intense cold wave continued in the Valley as Kargil in Ladakh region recorded bone-chilling night temperature at minus 23.6, lowest so far in Jammu and Kashmir this season.
"Cold wave conditions are likely to continue in the valley and the Ladakh region for at least another three to four days," a Met official said.
The Dal Lake in Srinagar city froze at many places. The Kashmir Valley is passing through the 40-day long harsh winter cold known the 'Chillai Kalan" that will end on January 30.
Leh was the second coldest town in the state with the minimum temperature recorded at minus 17.4 degrees Celsius. Pahalgam recorded minus 7.5 and Gulmarg minus 8.6 degrees Celsius. Jammu city recorded 4.4, Katra town 7.4, Batote 2.6, Banihal minus 1.8, Bhaderwah minus 0.5 and Udhampur 0.4 degrees Celsius as the minimum temperatures.
Rajasthan 
Weather in Rajasthan refused to abate as Fatehpur Shekawati recorded the season's lowest at minus 1.2 degree Celsius, followed by Sikar at 0.5 degree Celsius today. Alwar and Sriganganagar, too, continued to reel under cold wave conditions for the fourth consecutive day, a MeT official said. 
The dip in temperature led to a dense fog cover, which in turn caused disruption in the train traffic movement. According to the North-Western Railways, several trains were running delayed in the region.
Sriganganagar recorded the minimum temperature of 1.3 degrees Celsius followed by 1.4 degrees Celsius in Churu and 2.2 degrees Celsius in Alwar. And while Pilani and desert state's hill station Mount Abu settled at 4 degrees Celsius each, BanAsthali and Chittorgarh recorded a close 4.1 and 5.3 degrees Celsius respectively. 
On the other hand, maximum temperature at most of the places was recorded between 21 and 27.5 degree Celsius. Weather is likely to remain dry with no major change in minimum temperature in state in next 24 hours, the MeT department predicted.
Punjab and Haryana
Cold wave swept through most places of Punjab and Haryana, with Adampur in Jalandhar being the coldest place in the region with a low of 0.6 degrees Celsius. 
Chandigarh, the joint capital of both states, shivered at 4.8 degrees Celsius, one degree below normal.
In Haryana, Narnaul and Karnal braved cold weather at 2.5 degrees Celsius and 2.2 degrees Celsius respectively, up to five notches below normal. Ambala, Hisar and Rohtak recorded mercury at 5.2, 5.1 and 5.7 degrees Celsius respectively. 
In Punjab, Amritsar experienced bone-chilling weather at 2.4 degrees Celsius while Ludhiana and Patiala shivered at a low of 7.4 degrees Celsius and 6 degrees Celsius respectively. Bathinda, Halwara and Pathankot braved cold weather at 3.2 degrees Celsius, 5 degrees Celsius and 3.6 degrees Celsius, respectively. 
Himachal Pradesh 
Biting cold persisted in most parts of Himachal Pradesh. The high-altitude tribal areas groaned under biting cold wave conditions with minimum temperatures ranging between minus 13 degrees Celsius and minus 20 degrees Celsius. 
On Tuesday, Keylong and Kalpa in tribal Lahaul and Spiti, and Kinnaur registered a low of minus of minus 7.2 degrees Celsius and minus 3.4 degrees Celsius respectively. Bhuntar recorded a low of minus 1.5 degrees Celsius, followed by Sundernagar minus 0.9 degrees Celsius, Palampur 0.5 degrees Celsius, Solan 1 degree Celsius and Una 1.8 degrees Celsius.